When we were in Wisconsin last month, we met up with a wonderful family at this rain-forest themed restaurant. It's a pretty cool place with moving 'animals', the sounds they make, and thunderstorms too. It does feel like we were dining in the rain-forest. Because there were so many things going on in the restaurant, it pretty much kept the kids occupied while the adults visited.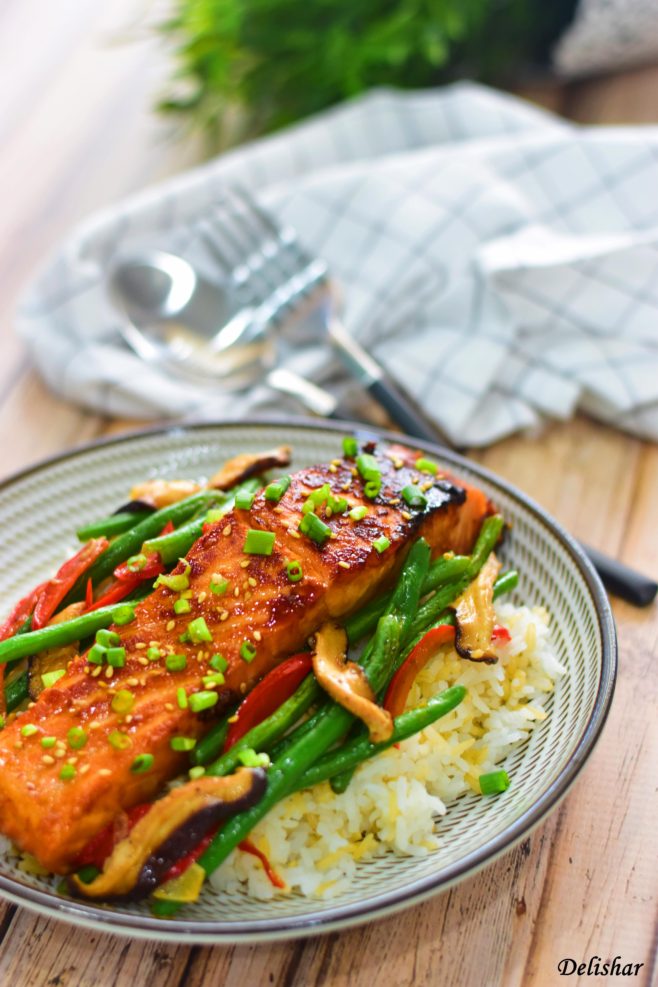 It wasn't our first visit to the restaurant. I usually order myself the spiciest entree I can find on the menu, which is a jambalaya pasta. But maybe because it was the festive season, the restaurant had a special menu. So when I saw Honey Sriracha Salmon on Rice, I had to restrain myself from jumping for joy. I mean, that combination can never go wrong! And I wonder why I've never though of making it for the blog before!
Better late than never right? So here is my version of Honey Sriracha Salmon, inspired by what I had at the Rainforest Cafe. I made the girls' portion separately without the Sriracha. All of us at home could not get enough of that delicious piece of fish! The whole dish took me about 10 minutes to prep, and another 10 minutes to cook. Super quick and delicious weeknight meal that you will want to put on your rotation list.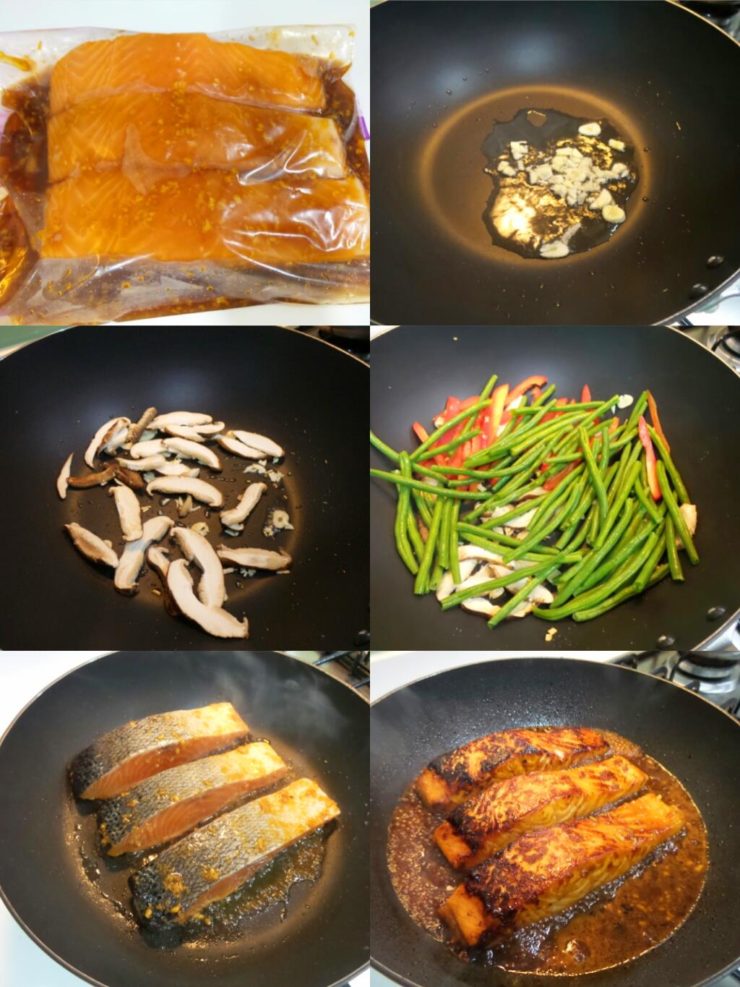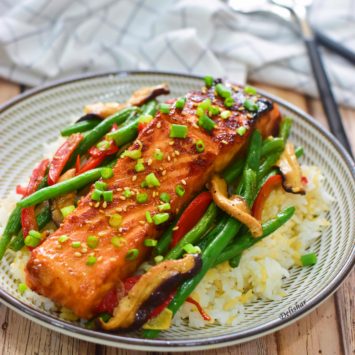 Honey Sriracha Salmon with Baby Beans
Ingredients
Salmon marinade
600

g

salmon

cut into 4 pieces (I used Wild salmon from The Alaska Guys)

3

tbsp

honey

1/3

cup

soy sauce

1

tbsp

sriracha sauce

or to taste

1

tbsp

grated ginger

1

tbsp

minced garlic

Black pepper to taste
Baby beans
200

g

baby beans

ends removed

1/2

red pepper

sliced

3

fresh shiitake mushrooms

sliced

2

cloves

garlic

minced

Salt and black pepper to taste

1

tbsp

olive oil
Garnish
Chopped spring onions

Toasted sesame seeds
Instructions
Salmon
In a large ziplock bag, place all the ingredients listed under salmon marinade. Toss to coat evenly, and chill for an hour or overnight.

Heat pan on medium-high heat with olive oil.

Remove fish from bag, and allow all the excess marinade to drip off. Reserve marinade.

Pan fry salmon flesh side down for 2 minutes, flip and cook for another 2 minutes.

Then pour reserved marinate into pan, cover, reduce heat to low, and cook for another 4 minutes.

Transfer salmon to serving plates over steamed white rice. Spoon sauce over salmon.
Baby beans
In a clean pan, heat oil over medium high heat.

Stir-fry garlic until fragrant.

Add all the other ingredients, and season with salt and pepper.

Stir-fry until desired done-ness of vegetables.

Serve on the sides of Honey sriracha salmon.

Garnish dish with chopped spring onions and toasted sesame seeds.
Notes
Sriracha is a type of Thai/Vietnamese hot sauce / chili sauce made from a chilli, vinegar, garlic, sugar, and salt. If you live in SG, you can find Lingham Sriracha from major supermarket. You can also substitute it with your favourite garlic chilli sauce.