When I first started my cooking blog, I shared a very similar recipe. The difference is in the sauce, and the filling. This one uses fish paste and has a lighter, more kid-friendly sauce. The former uses minced fresh prawns and minced pork, served with a sweet and spicy sauce.
As usual, the husband's face lit up when he saw cabbage rolls served during dinner. I mentioned that the husband does not eat/like fish paste. But that night, he probably finished a whole plate on his own, without knowing that the filling contains fish paste of course. Fish paste gives the filling a lighter texture, not as dense as the one using prawns. And the kids get to enjoy this lovely dish, as I made a non-spicy light sauce to go together with the dish. It was great with steamed rice!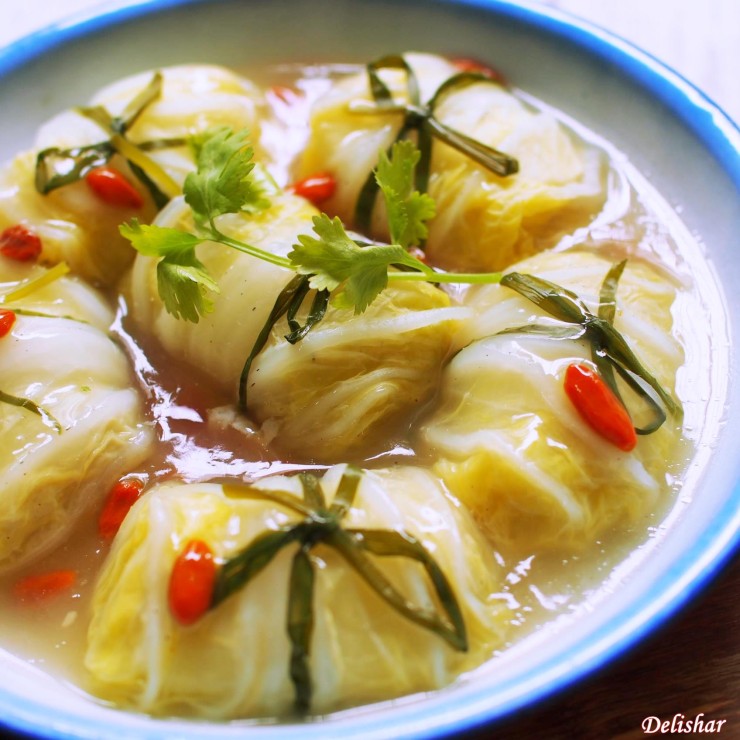 Usually, I wrap my cabbage rolls from the leave part, but this time round I started rolling it from the base of the leaf. Both ways works well as you can see. This means it gives you the flexibility to start rolling from the top or base of the leaf, depending on the 'condition' of the leaf. If that make any sense. For example you don't have to discard the leaf if there are some small tears, or blemishes on the base. Just start rolling with the 'most damaged' part, whether it is the top or base of the leaf. That way, we reduce wastage.
Remember to tune in to 《弹 指 间 的 料 理》, channel 8 at 8pm, 6th April 2016 (Wed) and watch me make this dish along side Dennis Chew as he tries to recreate this recipe. The show is hosted by hilarious Ben Yeo & Vivian Lai, so don't miss it!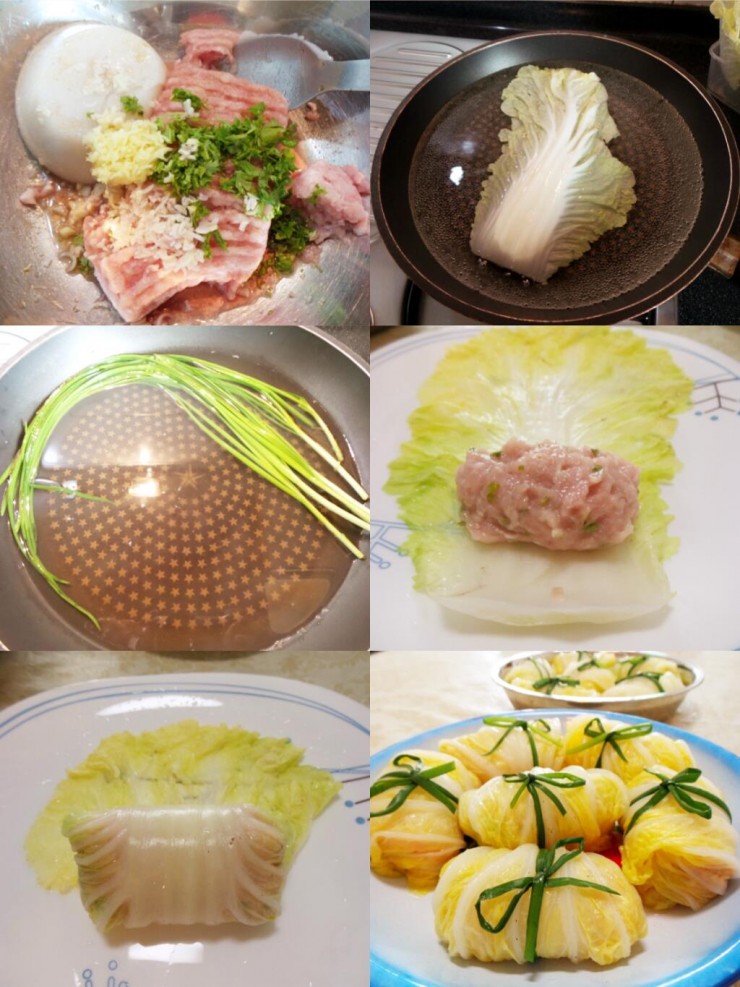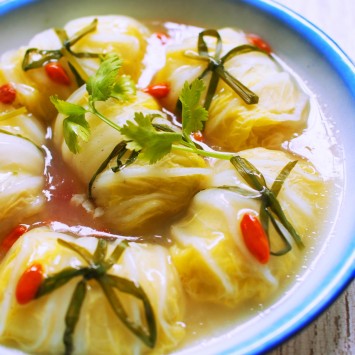 Steamed Cabbage Rolls
Makes about 12 rolls
Ingredients
Cabbage Rolls
200

g

fish paste

250

g

minced pork

or chicken

2

tbsp

chopped coriander leaves

2

tbsp

spring onions

1

tbsp

grated ginger

2

cloves

garlic

minced

1

lemongrass

ends and inner part minced

1 1/2

tbsp

fish sauce

1

tsp

sesame oil

1/2

tsp

sugar

White pepper to taste

12-14

leaves

of napa cabbage

12-14

chives to tie

optional
Sauce
1 to 1 1/2

cup

chicken stock

1

tbsp

wolf berries

1

lemongrass

bruised

3

slices

galangal/ blue ginger

or old ginger

1

shallot

1-2

coriander root

2-3

lime leaves

2

cloves

garlic

1/2

tsp

sugar

fish sauce to taste

corn starch slurry
Instructions
In a large mixing bowl, add all ingredients for cabbage rolls except cabbage and chives.

Using a wooden spoon, chopsticks, or hand, stir vigorously in one direction until filling has a sticky consistency.

Allow to marinate in the chiller while you prepare the rest of the ingredients.

Bring a pan of water to boil, then add 2 leaves of napa cabbage.

Blanch for 30-45 seconds or until soften and pliable.

Continue blanching until all napa cabbage leaves are done.

Then do the same for the chives.

To wrap, scoop about 2-3 tbsp of meat filling onto an inch above the end/stem part of the napa cabbage.

Roll upwards, then tuck in the sides as you continue to roll.

Tie a butterfly knot around the cabbage roll with the blanched chives.

Place cabbage roll on heat proof plate, seam side down.

Continue until all the fillings are used.

Get a steamer going over high heat.

Steam for 10 minutes or until done.

Drain away excess liquid collected in the plate, or add that to the chicken broth.
Sauce
In a sauce pan, bring the chicken broth to a boil then add lemongrass, ginger, shallot, garlic, and wolf berries.

Lower heat to medium and allow to infuse for 3-5 minutes.

Season with sugar and fish sauce.

While stirring, drizzling in corn starch slurry to thicken sauce.

Remove from heat, discard lime leaves, ginger, shallot, and garlic.
To Serve
Spoon sauce over steamed cabbage rolls

Garnish with coriander.
Notes
You can substitute fish paste for mashed tofu for an even healthier alternative!