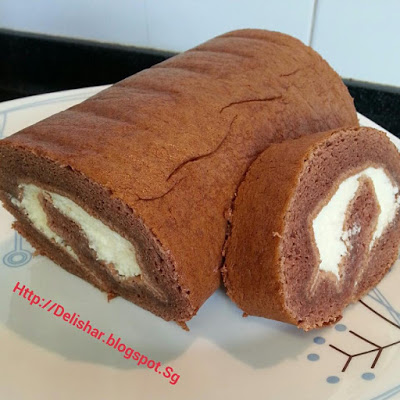 Anyone who knows me, knows I'm a Milo lover! I even got the hubs addicted to having an iced Milo every night. I tried using the usual swiss roll recipe that I usually make to create this. But it turned out very dry and the cake cracked when rolled. So I modified the recipe and omitted butter all together. I suppose this recipe is healthier. Because this recipe was kind of an impulsed trial run, I didn't take any picture of the steps. 🙁
Ingredients
4 eggs, separated
1/2 cup sugar
1/2 cup + 1 tbsp cake flour
2.5 tbsp Milo powder
Pinch of salt
3/4 tsp baking powder
2 tbsp hot water
1/8 cup sour cream (I used low fat)
1 cup whipping cream*
1/4 cup condensed milk*
Method
Preheat oven to 180*C
Lined baking tray with parchment paper
Beat the egg yolks on med-high, add vanilla, and 1/4 cups sugar until light yellow n fluffy (refer to this post on how the eggs should look like)
Sift salt, baking powder, and cake flour together
Dissolve Milo powder in hot water, then stir in the sour cream until combined
Beat egg whites until soft peaks formed, gradually add 1/4 cup sugar and beat till firm peaks are formed
Combined the egg mixtures by folding in the yolk mixture into the white in 2 batches
Fold in the Milo mixture
Pour batter into prepared tray
Bake for 12-14 mins
To roll
Let cool for 5 mins
Turn the cake out on to another clean parchment paper on your counter-top
Remove the baking paper attached to the cake
With the help of the bottom baking paper, tightly roll cake and leave to cool completely on a wire rack
Filling
Whip the cream on med – high speed
Slowly add in the 1/4 cup condensed milk
Beat for about 5 mins, checking every now and then that the cream is formed. It should be like the firm peaks. Make sure you do not over beat or the cream will separate!
Assemble
Unroll the cooled cake
Spread all the cream on the cake
Roll back and chill for an hour before serving
Bon appetit!!