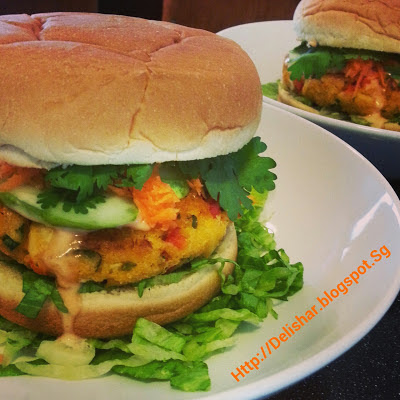 This dish my dear friends… is OH MY YUM! The husband took a bite and his eyes was wide open when he lets out a 'Wow!' with his mouth full.
When I was cracking my head during my weekly mean planning… Yes, I plan my menu weekly to minimize wastage of fresh produce. I was thinking to myself, how else can I fusion our local and very famous chilli crab? Then crab cakes came to mind. I have always wanted to make crab cakes, and with that newly found frozen crab meat.. it makes it so easy!
Who doesn't like crab cakes? Who doesn't like burger? Then I decided to put it all together. So when I made my chilli crab sauce for the 'Singapore Chilli Crab Cream Pasta' yesterday, I took out about 4-5 tbsp of the sauce before I add heavy cream and egg. For the sauce recipe, please go to http://delishar.com/2013/09/singapore-chilli-crab-cream-pasta.html Adjust the recipe to make about 1/2 cup sauce. Or you can simply use a premix, because you do not need much of the sauce. But be careful when you use premix, you need to adjust how much to put it because of the difference in concentration and salt content.
If you live in a place where you cannot find Singapore Chilli Crab premix. Use equal parts ketchup with thai sweet chilli sauce (eg. 1 tbsp chilli crab sauce, mix 1/2 tbsp sweet thai chilli and 1/2 tbsp ketchup) to substitute. It will not taste authentic but I'm sure it will still taste good.
Ingredients (Serves 2)
1 pack of 250g frozen crab meat, cooked (brand is OKEANOSS FROZEN CRAB MEAT. It cost S$3.50 for 250gm at NTUC)
2 burger bun
1.5 tbsp chopped spring onions
1 tbsp finely diced yellow onion
8 curry leaves, thinly julienne
2 tbsp diced red pepper
1/2 to 3/4 cup panko
1/2 egg
1 tbsp mayo
2 tbsp Singapore Chilli Crab sauce (How to make sauce from my other post)
1 cup shredded iceberg lettuce
1/4 cup shredded carrot
1/4 cup chinese parsley
6 slices of cucumber
Salt and pepper
3 tbsp Mayo*
1.5 tbsp Chilli Crab Sauce*
Preheat your oven to 200*C
Get your ingredients ready
Make your dressing, 2:1 ratio.
2 parts mayo to 1 part Chilli Crab Sauce. Put in chiller until ready to use.
It works well as a salad dressing too!
Mix the ingredients, (Red pepper, curry leaves, spring onion, yellow onion, mayo, crab meat, 2 tbsp chilli crab sauce, 1/2 a beaten egg, salt and pepper) What to do with the other 1/2? Add 1 more and make a small fried omelette as a burger topping!
Add in panko crumbs until you get a shape-able consistency and the mixture holds well together.
Chill in fridge for 30 mins to 1 hour.
Skip if you do not have the time.
Shape crab cakes into 2 patties, place on greased pan and spray on a little oil on the top side. Bake for 14 mins, flipping once.
Butter(I used olive spread) the buns and put it in the oven with the buttered side up to toast. I toasted mine for 4-5 minutes. It should be crusty outside and soft in the middle part.
Line your plate with shredded lettuce, but leave enough to build your burger!
Build your burger…
I built mine bottom up with lettuce, crab cake, sauce, cucumber, shredded carrot, parsley.
Serve and enjoy the yummy burger!
Bon appetit!