This dish is oh so yum! If you like our local Singapore Chilli Crab, you have got to try this dish. I made the sauce from scratch, but I'm sure the premix will taste good as well. It is definitely much more convenient using the premixes which is widely available in any local or Asian supermarket if you are not from Singapore. I used heavy cream instead of corn flour to thicken the sauce and I really liked how it turned out. The cream cut through the spices and created another dimension of flavour! I used 6 chilli padi for this dish, it was nice for my palette, but my ang moh husband commented that it is spicy for him. Although he continued to slurp down the pasta & sauce, and cleared his plate. I also experimented with frozen crab meat just to save me the trouble of cleaning, cutting, cooking, and picking out the flesh from fresh crabs. It worked out nicely. The brand is OKEANOSS FROZEN CRAB MEAT. It cost S$3.50 for 250gm at NTUC.
Ingredients (Serves 2-3, Sauce makes about 2.5 cups)
1 pack of 250g frozen crab meat
4 shallots*
5 gloves garlic*
1.5 inch thumb of ginger*
4-6 chilli padi, seeds removed*
1 stalk lemongrass, use bottom part only*
1 cup ketchup
1 tbsp vinegar
2 tbsp sugar
1 tsp belacan chilli
1-1.5 cups chicken stock
1 tbsp heavy cream
1 egg
4-5 tbsp canola or peanut oil
Using a food processor, pulse ingredients marked * until fine
Poach the crab meat in a pot of boiling water, or put cook it using the microwave and some water in a microwavable bowl with a cover on.
This should be how the spice paste should look like
Get your ingredients together and lets start making the sauce
Heat wok/pan on med high pour in oil.
Fry the spice paste & belacan chilli until fragrant.
It will take a couple of minutes.
Add 1 cup chicken stock, ketchup, vinegar and bring to a boil.
Add sugar and mix well.
Pour in more chicken stock according to the consistency you prefer.
This is the point where I reserved some sauce to make the very yummy Crab Cake Burger, if you are directed here from my
Baked Crab Cake Burger with Singapore Chilli Crab Mayo Dressing post.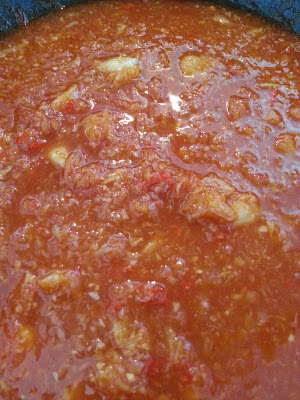 Add the crab meat and bring to boil
Add 1 tbsp of heavy cream and mix well
Beat in 1 egg and mix well.
Serve on your choice of pasta and garnish with chinese parsley.
Bon appetit!!