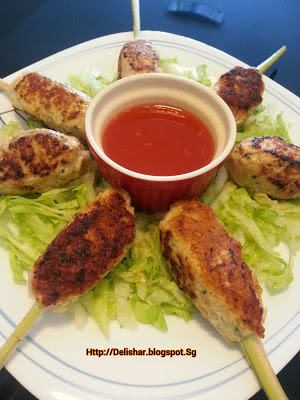 My wet market is closed for cleaning this week and I feel pretty lost… I'll just have to make do with supermarkets and whatever I have left in my fridge… So I looked in my fridge and I saw 2 packets of lemongrass… Dig further… I found galangal! Then this recipe came to mind. It is Thai inspired, and a good way to use up the many lemongrass laying in my chiller.
Ingredients (Serves 2-3)
120g pork, minced
120g chicken, minced
5 prawns, minced
1 shallot, roughly chopped
2 cloves garlic
1 lemongrass, use ends only, roughly chopped
Zest of 1 lime
Juice of 1 lime
2 tbsp spring onion, chopped
1/2 inch thumb galangal/blue ginger, roughly chopped
1/2 inch thumb ginger, roughly chopped
2-3 tbsp carrot, grated
1 tbsp fish sauce
1/2 tbsp corn flour
1/2 an egg
1/4 tsp white pepper
1-2 tbsp EVOO
4 stalks lemongrass, halved length wise
Lime Sweet Chilli Dip
Juice of 1 Lime
1 tbsp water/ reduced sodium chicken stock
4 tbsp Thai sweet chilli sauce
Mix ingredients for the sauce and set aside.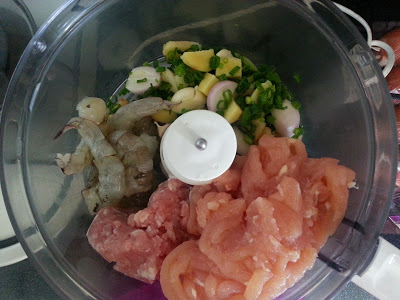 Put all the ingredients, except the 4 stalks of lemongrass into a food processor.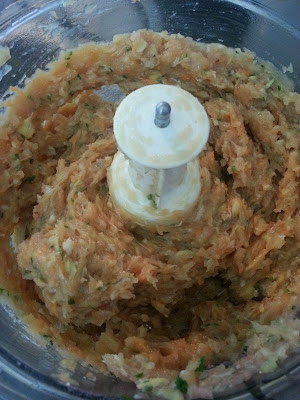 Pulse until well blended.
Chill in fridge for 30 mins.
Meanwhile you may want to cook Gingers & Pandan Fragant Rice or Turmeric Ginger Rice to serve as a complete dish.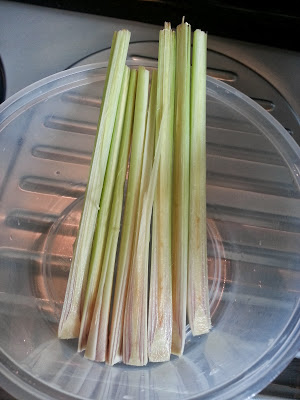 Prepare the lemongrass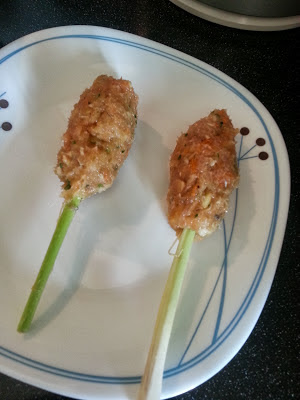 There are 2 ways to doing this.
1) Shape meat paste into sausage shape and push lemongrass through
2) Slightly flatten meat paste on palm, put lemongrass on the paste, wrap and seal the meat paste around the lemongrass.
I preferred the latter.
Tip: Wet hands before handling meat so it doesn't stick to your hands.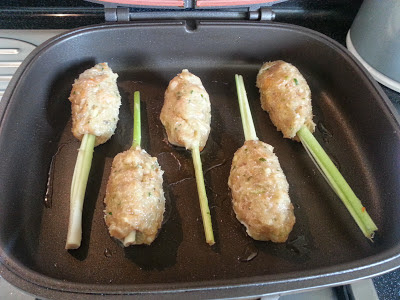 Heat pan with EVOO on med high heat. I'm using my HCP here…
Place prepared Trio on HCP and lock. Let it cook for about 1-2 mins each side. Depending on how brown you like it to be. As a gauge, the browner ones you see on the finished picture was in the HCP for 2 mins.
If you are using a regular frying pan, double the time.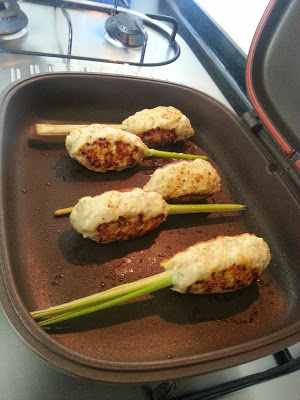 Flip and cook all 4 sides.
Here I'm doing 1 min locked, flip, 1 min locked, repeat till all 4 sides are done.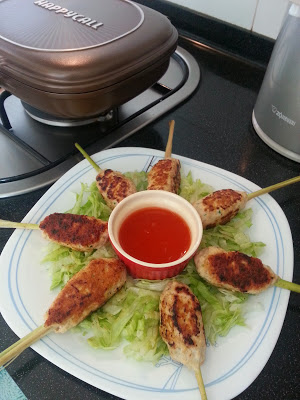 Serve it on a bed of shredded lettuces and dipping sauce.
Bon appetit!