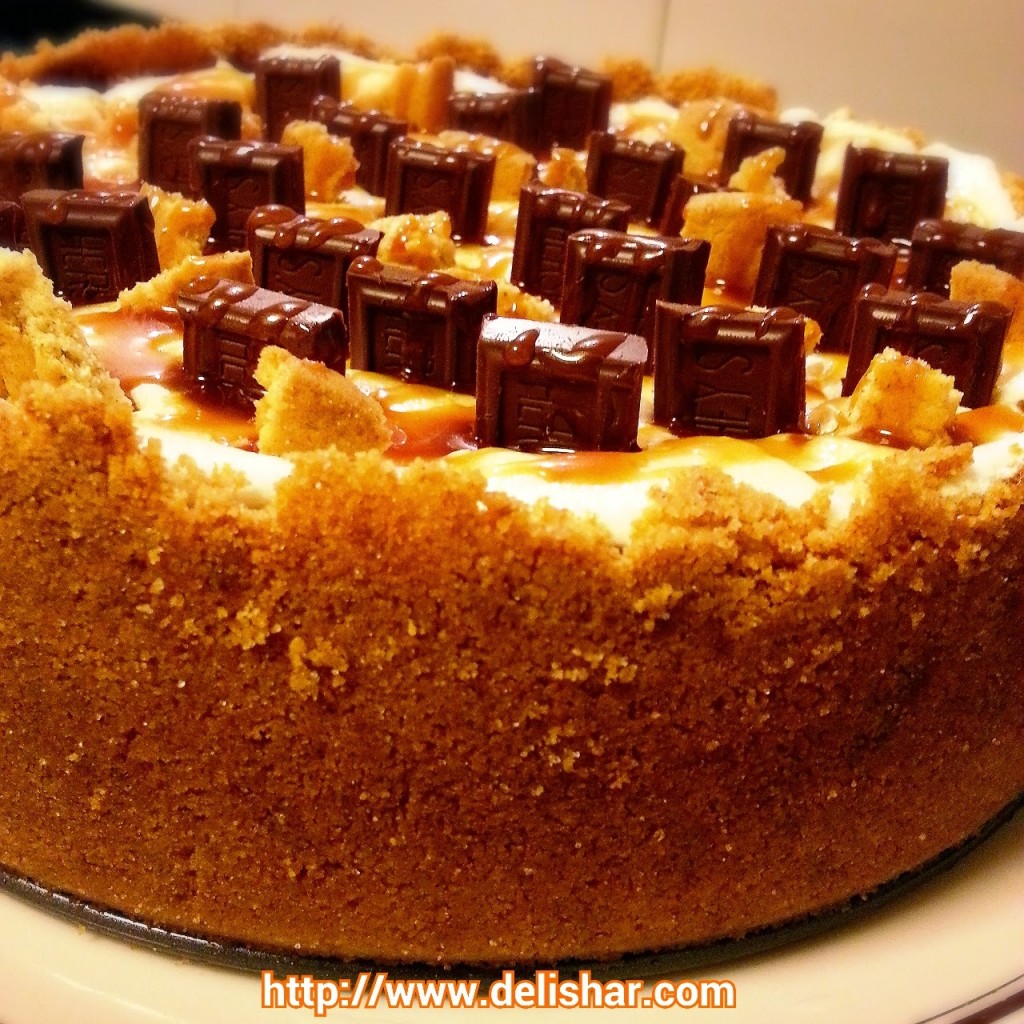 A dear friend of mine tagged me on a S'mores post on Facebook after knowing that I have quite an obsession with S'mores (Check out my S'mores Milo Brownie, I swear its the best of both world!). Quite frankly, there is something very appealing about S'mores! That melted chocolate and gooey toasted marshmallow, sandwiched between crunchy and slightly salty graham cracker… Mmmmmm I'm salivating as I'm writing this post! Honestly, if you do not know what S'mores is… you are missing out! Get yourself some S'mores and start living baby!
This cheesecake was inspired by a recipe from Bakerita. I was looking at pictures of S'mores cakes and thought this was really appealing! It was made out of Graham crust layered with marshmallows, Nutella, cheesecake batter with chocolate chips & marshmallows, then topped with toasted marshmallows, Hershey's bar, graham bits, and drizzled with home-made salted caramel sauce. I made one, in celebration of Teachers' day. I made it for the teachers at school, as a "Thank You" for all their hard-work. It's not easy being an educator, it is draining, but at the same time, fulfilling. They start their day very early 5.30 in the morning, and very often do not go back home till late. Work doesn't stop when they get home, they have to grade papers, write recommendation letters, and plan for the next lesson. Amidst all that, they have to juggle their own personal life, parenting, and/or taking care of their parents. So a little cheesecake to fill their belly is nothing. 🙂
Update: Giveaway is has ended.
Oh! Did you know that Delishar is officially 1?! And for that reason, I will be holding my first giveaway! A Wilton 3 tier stackable cooling grid! We all need one or two of those! Look to the bottom of this post for details on how to participate! 🙂 Thank you once again for all the love and support given!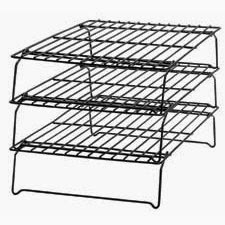 S'mores Cheesecake (Made a 9 inches springform pan)
Crust
2-1/2 cups graham cracker (digestive) crumbs, process cracker in food processor until fine
3/4 cup melted butter
1/3 cup sugar
2 cups mini marshmallows (I couldn't find minis, so I cut up the regular marshmallows)
1/2 cup Nutella
Cheesecake
2 blocks of 8oz cream cheese, softened
1 can sweetened condensed milk, 390g
2 tsp vanilla extract
1 cup mini chocolate chips
1 cup mini marshmallows (I cut up my regular marshmallows)
pinch of salt
3 eggs, room temp
Salted Caramel Sauce (makes about 2 cups)
170g unsalted butter, soften and cut into 5
1 cup whipping cream/heavy cream, bring to room temp
2 cups sugar
2 tsp salt
2 tsp vanilla extract
Toppings
1-1/2 cups mini marshmallows
2 Hersey's chocolate bars
2 graham crackers or digestive biscuits, break into small pieces
1/4 cup salted caramel sauce
Preheat oven to 160C.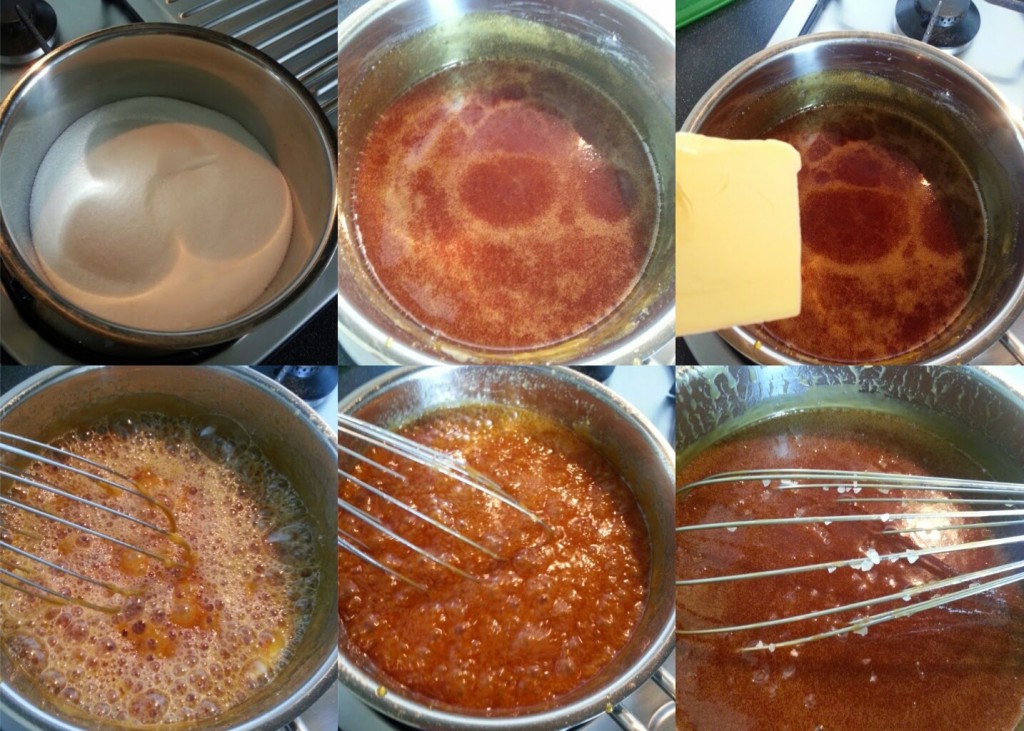 Salted caramel sauce
Add sugar to a heavy sauce pan on med-high. Allow sugar to melt then start to whisk as sugar melts. Lower heat to med when sugar has melted and turn amber colour. Add in butter one by by and whisk as you do it, it will bubble up quite vigorously. Pour in heavy cream while whisking. When combined remove from heat, stir in salt and vanilla extract. Allow to cool for 20 mins before pouring into air-tight glass jar. Store in fridge for up to 2 weeks.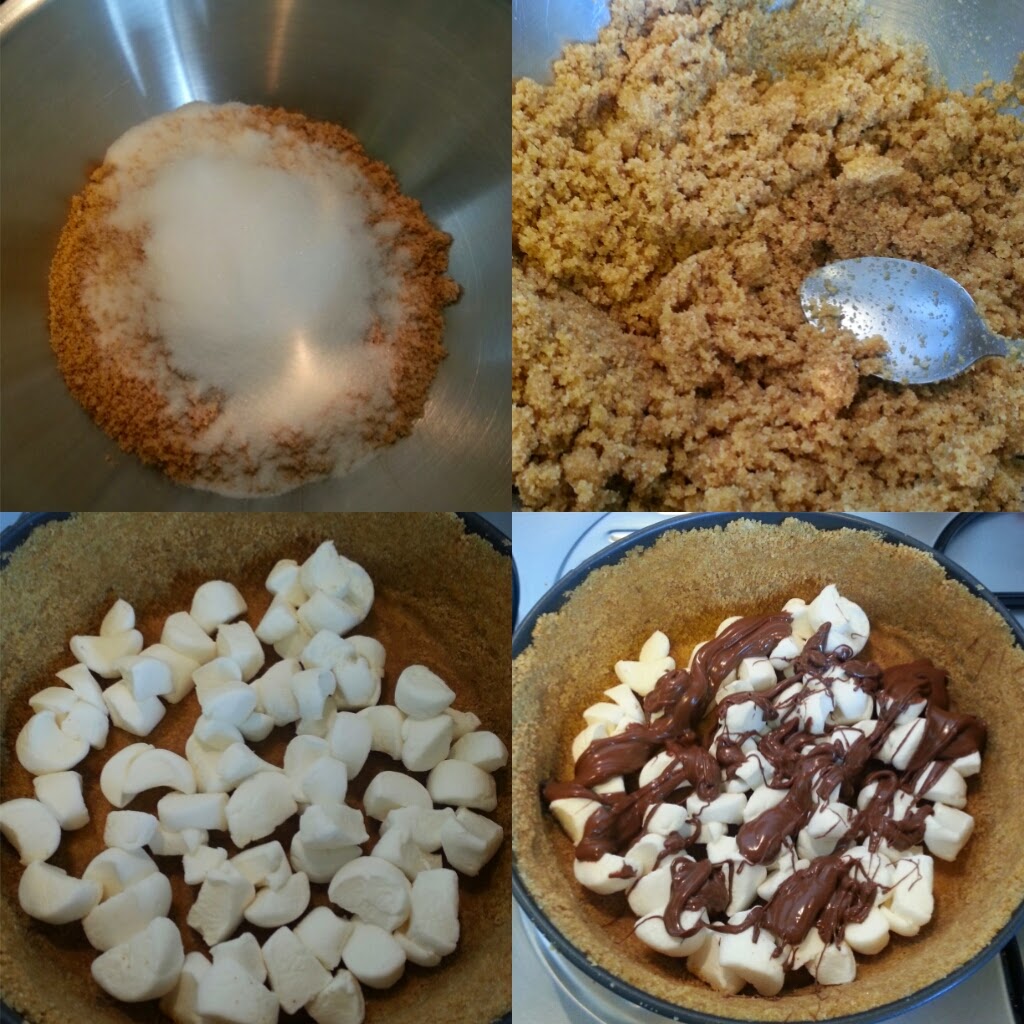 Crust
Combine crumbs, sugar, and butter until combined. It should look like wet sand. Press the base and side of the spring form pan with crumbs mixture. Leave it in the freezer and prepare batter. When you are done with batter, layer the marshmallows on the base of the crust, and drizzle/pour in the Nutella on top of the marshmallows.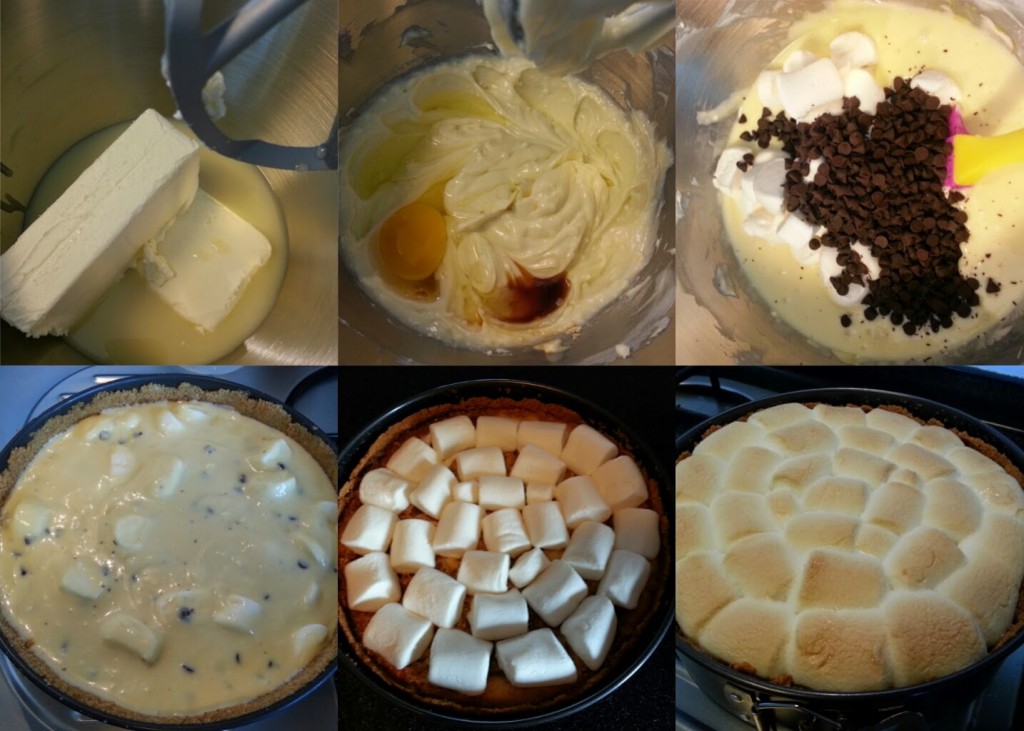 Cheesecake Batter
Beat condensed milk and cheese till combined. Add vanilla extract & salt. Add egg one by one and allow to mix until just combined. Careful not to over-mix. Fold in chocolate chips, and marshmallows. Pour batter into prepared crust layered with marshmallows & Nutella. Bake for 50 mins – 1 hour or until cheesecake is almost set but still jiggle slightly in the middle.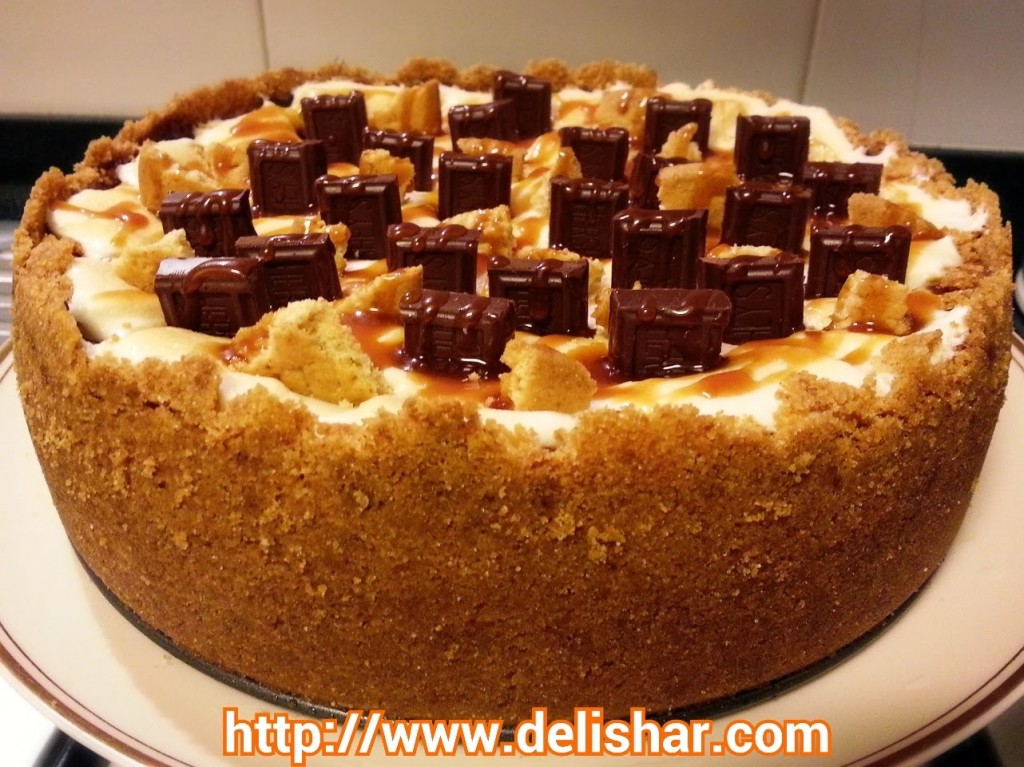 Toppings
Remove from oven and top with 1-1/2 cups of marshmallows. Return back to oven for 5-8 mins to allow marshmallows to brown a little. I suggest that you stand by your oven and watch to make sure it doesn't burn. Remove from oven and allow to cool for 30 mins. Run a knife along the side to release crust from pan. Allow to cool completely then top with Hershey's chocolate, graham cracker bits, and drizzle with salted caramel sauce. You may want to warm the caramel if it has thickened when chilled. Chill overnight before serving.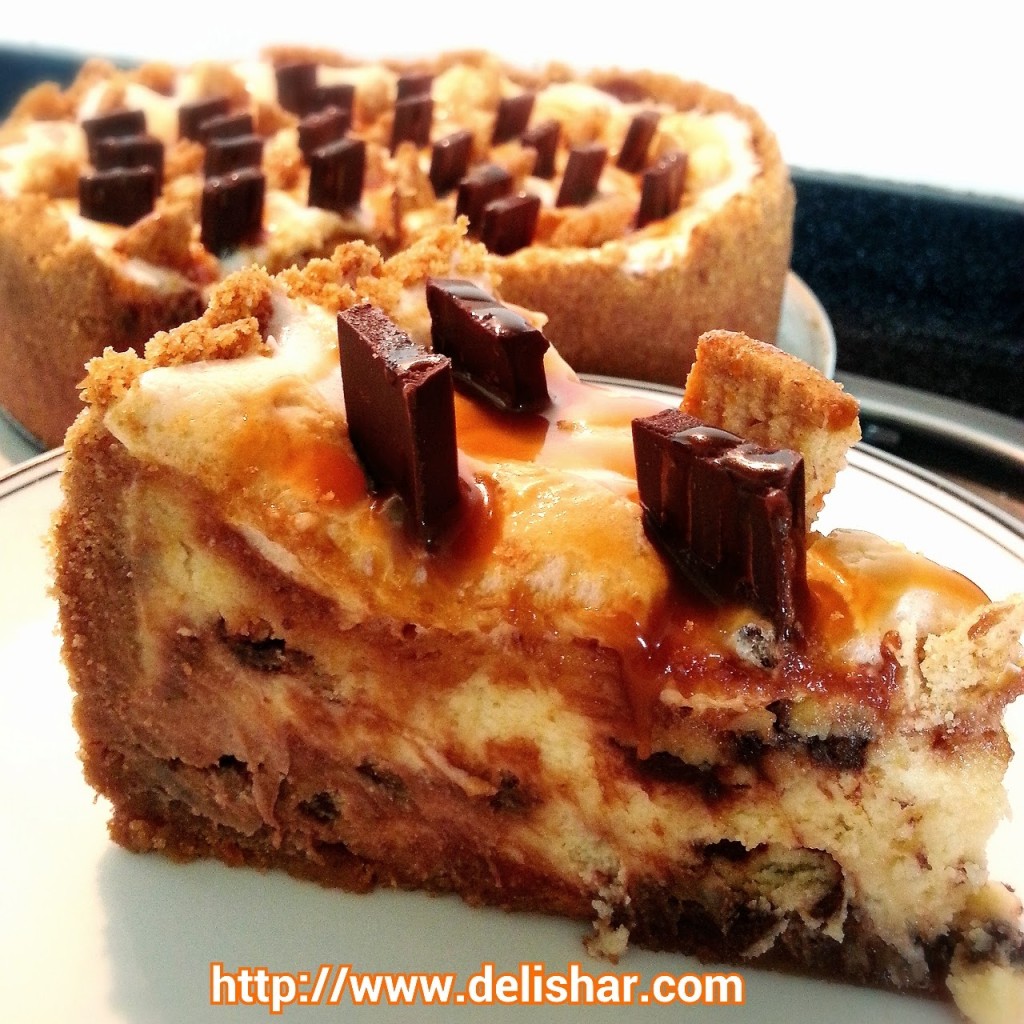 Just for the record, it was worth every calorie. 🙂
Bon appetit!!
To take part in the giveaway, simply complete the Rafflecopter below!
This giveaway ends on Tuesday, September 2, 2014 at 12:00 a.m. Singapore time (GMT+8). The winner will be selected by random.org and will contacted by email. If there is no response after 48 hours, another winner will be selected. Meet up required for prize collection, therefore it is open to Singapore entrants only.