Finally conquered by fear of Swiss Meringue Buttercream! I have to say that I was actually anticipating some trouble but none happened! No soupy or curdled mixture at all! Hurray! The only thing I did differently from some other recipes was to use slightly firm butter, after reading from many other sources. I think it is helpful especially in Singapore's heat!
If you do meet with those problems, just continue mixing! If your mixture becomes too soupy, pop it in the fridge for 15 mins then continue beating. It will all come together, don't worry. After I tasted how buttery smooth and fluffy that awesome SMBC was, I think I will and can never go back to the normal icing sugar buttercream again! Yes, it is that awesome!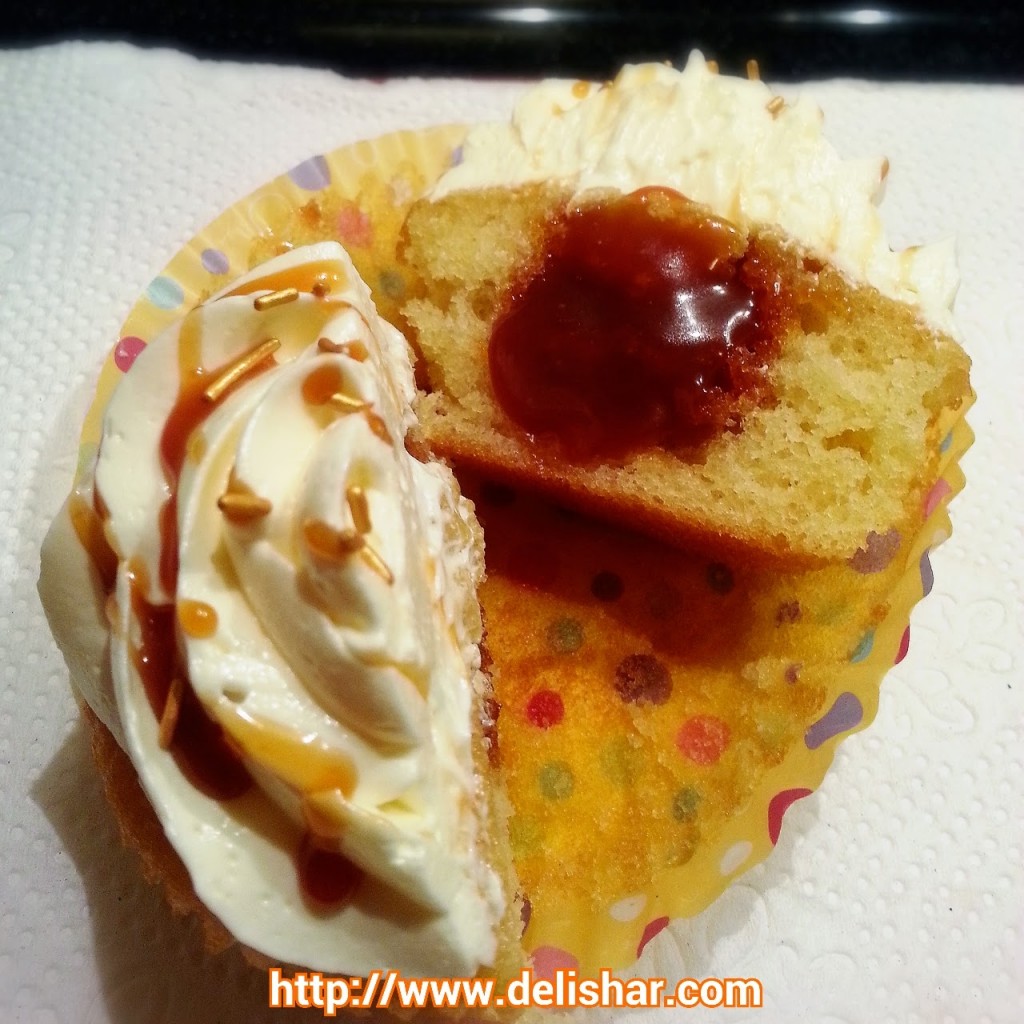 Here is how the cross section of the cupcake looks like! This cupcake has everything that I want in a cupcake, perfectly moist vanilla cupcakes, salted caramel, and smooth buttery buttercream… I wish I still have one waiting for me to sink my teeth into right now! I'm not posting pictures of how the salted caramel was made but you can refer to it at my S'mores Cheesecake recipe post.
Salted Caramel Sauce
 (makes about 2 cups) 
Ingredients
170

g

unsalted butter

soften and cut into 5

1

cup

whipping cream/heavy cream

bring to room temp

2

cups

sugar

2

tsp

salt

2

tsp

vanilla extract
Instructions
Add sugar to a heavy sauce pan on med-high.

Allow sugar to melt then start to whisk as sugar melts.

Lower heat to med when sugar has melted and turn amber colour.

Add in butter one by by and whisk as you do it, it will bubble up quite vigorously.

Pour in heavy cream while whisking.

When combined remove from heat, stir in salt and vanilla extract.

Allow to cool for 20 mins before pouring into air-tight glass jar.

Store in fridge for up to 2 weeks.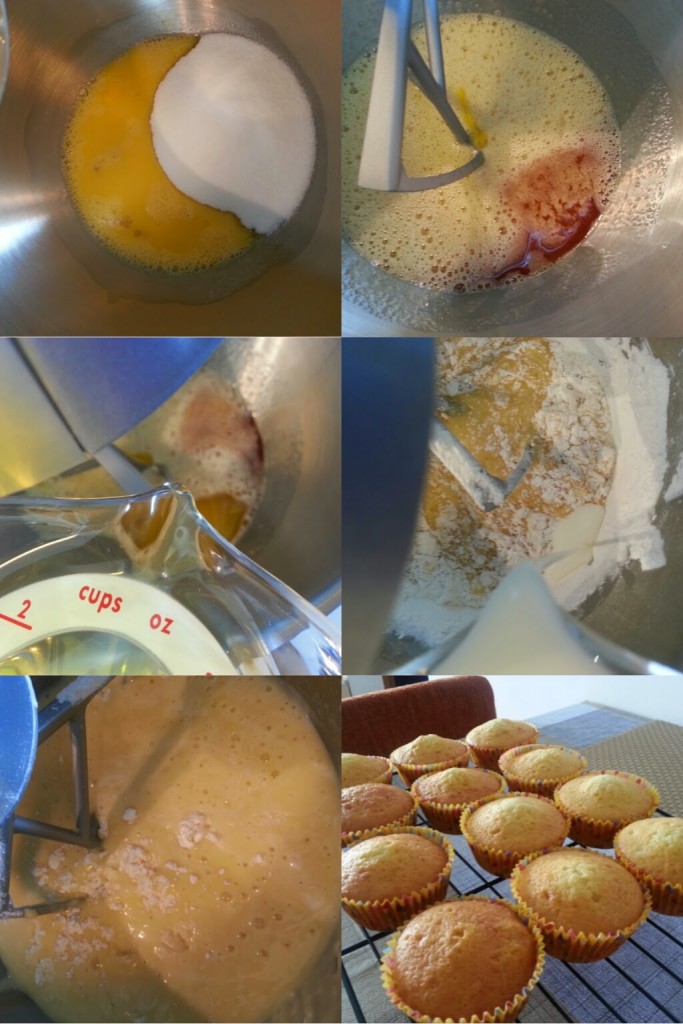 Salted Caramel Filled Vanilla Cupcakes
(Makes 12 regular size cupcakes
Ingredients
1 1/4

cups

cake flour

1 1/4

tsp

baking powder

1/2

tsp

baking soda

1/2

tsp

salt

2

eggs

3/4

cups

castor sugar

1/2

cup

vegetable oil

1/2

cup

buttermilk

1/2 cup milk + 1 tsp lemon juice side aside for 5 mins

1 1/2

tsp

vanilla extract

1/3

cup

of salted caramel sauce
Instructions
Preheat oven to 175C.

In a large bowl whisk together flour, baking powder, baking soda, and salt.

In your mixing bowl beat eggs for 20 secs then add sugar and beat for another 30 secs on medium speed.

Add vanilla extract and oil.

Reduce speed to low, add 1/2 of your flour mixture.

Then pour in 1/2 of your buttermilk.

Continue to add the other half of your flour, then buttermilk.

Beat until just combined. Don't forget to scrap down your bowl.

Fill cupcake liners till 3/4 full.

Bake for 12-14 mins until skewer comes out clean.

Let cool in pan for 2 minutes before carefully taking it out to cool on wire rack completely.

Use a filling nozzle or squeeze bottle, fill cupcakes with salted caramel.
Notes
Adapted from Glorious Treats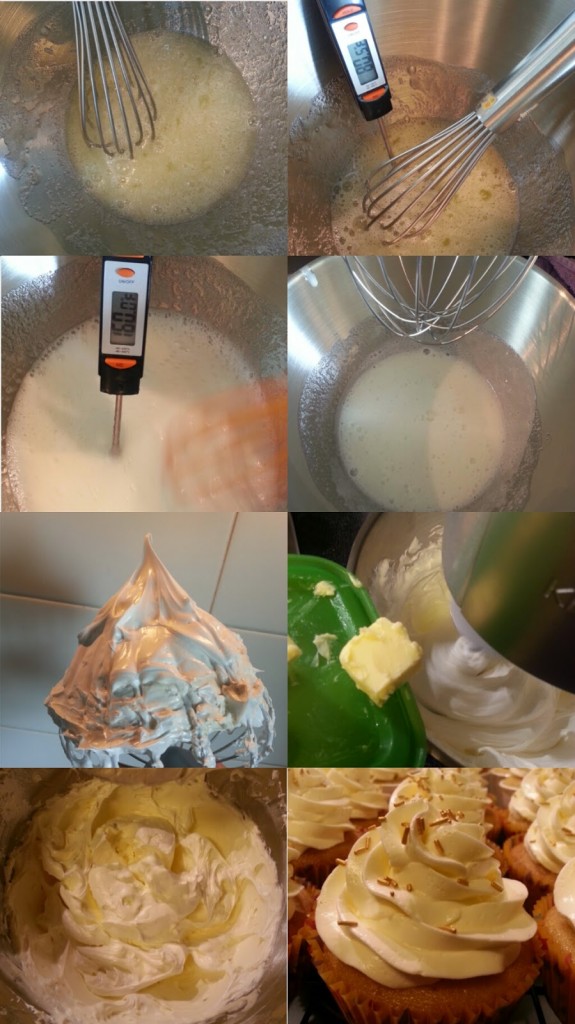 Swiss Meringue Buttercream
(enough to frost 24 cupcakes)
Ingredients
5

large egg whites

1 1/2

cups

sugar

454

g

unsalted butter

slightly firm (when pinched it should sink in but still be able to hold it's shape)

1/2

tsp

salt

1

tsp

vanilla extract
Instructions
Place sugar and egg whites in a large heat proof bowl.

Whisk continuously over a double boiler (saucepan of simmering water, your bowl should not touch the water!) Make sure you whisk continuously, I would suggest a hand mixer. But if you are like me, and like to work (hard) for your dessert, hand whisk it.

Whisk and whisk until the mixture comes to a temperature of 160F or 70C.

Remove from heat and move mixture to stand mixer.

Whisk until mixture cools down, it can take about 10 minutes. This is when I took my butter out from the fridge and cut them to about 1 inch by 1 inch cubes.

When meringue is cooled, glossy, and formed firm peaks.

Change to paddle attachment, add in butter cube, one by one on medium speed, allowing butter to be combined before adding another.

Then add your salt and vanilla extract, beat until combined.

Frost your cuppies! 🙂
Notes
Adapted from the domestic goddess wannabe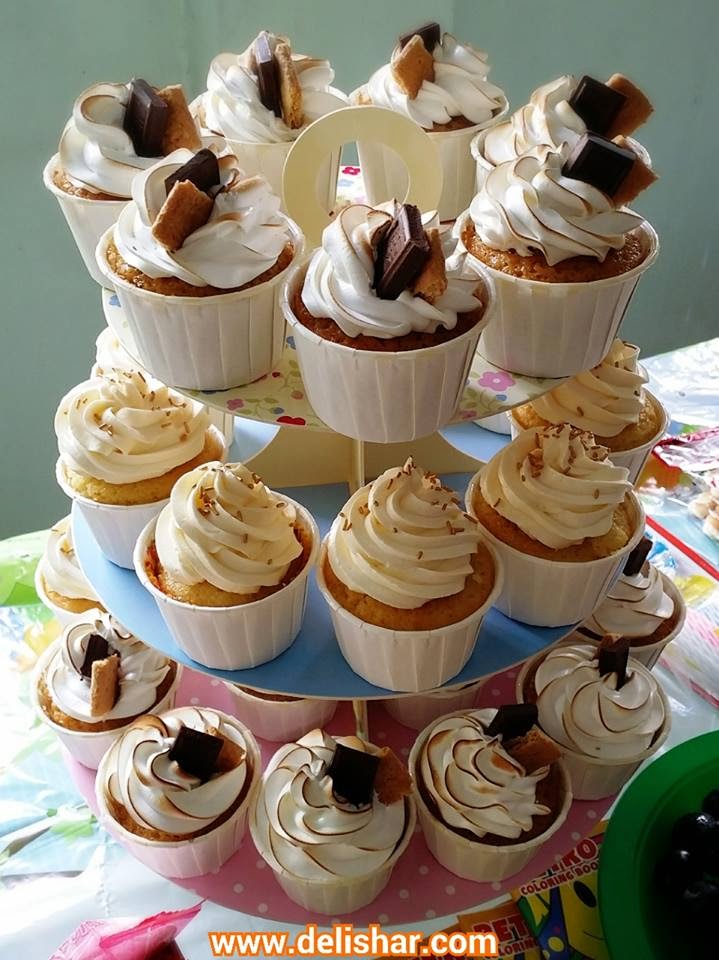 Bon appetit!!