This dish was inspired by scotch eggs, but I like having my meals in bite sized portions, plus I was also craving Japanese Hamburg Steak the week I made these babies. Personally, I prefer quail eggs to chicken eggs any time, and I can eat almost a dozen of those yummies in a steamboat session. Yes, that's the guilty me, confessing to my sinful indulgence. These meatballs turned out to be almost golf ball sized which was great with the kids as well. Not too big, and three of those meatballs with side dishes was more than enough for their little tummies.
It takes a little more effort in preparing the meal, but it was well worth it. I chose to bake my meatballs to reduce the calories compared to deep frying. You can coat it with flour, egg, and bread crumbs if you want a crispy exterior. If you choose to deep fry your meatballs, fast fry it for 2-3 mins at 175C. That way you'll still be able to get runny yolk, but remember to cook your eggs no more than 2 minutes, and dip them into ice water to stop the cooking process. I served my meatballs with Creamy Garlic Mashed Potatoes and some blanched greens. Here's how to make these yummy meatballs!
Have you taken part in the current Mayer Airfryer GIVEAWAY? Details below.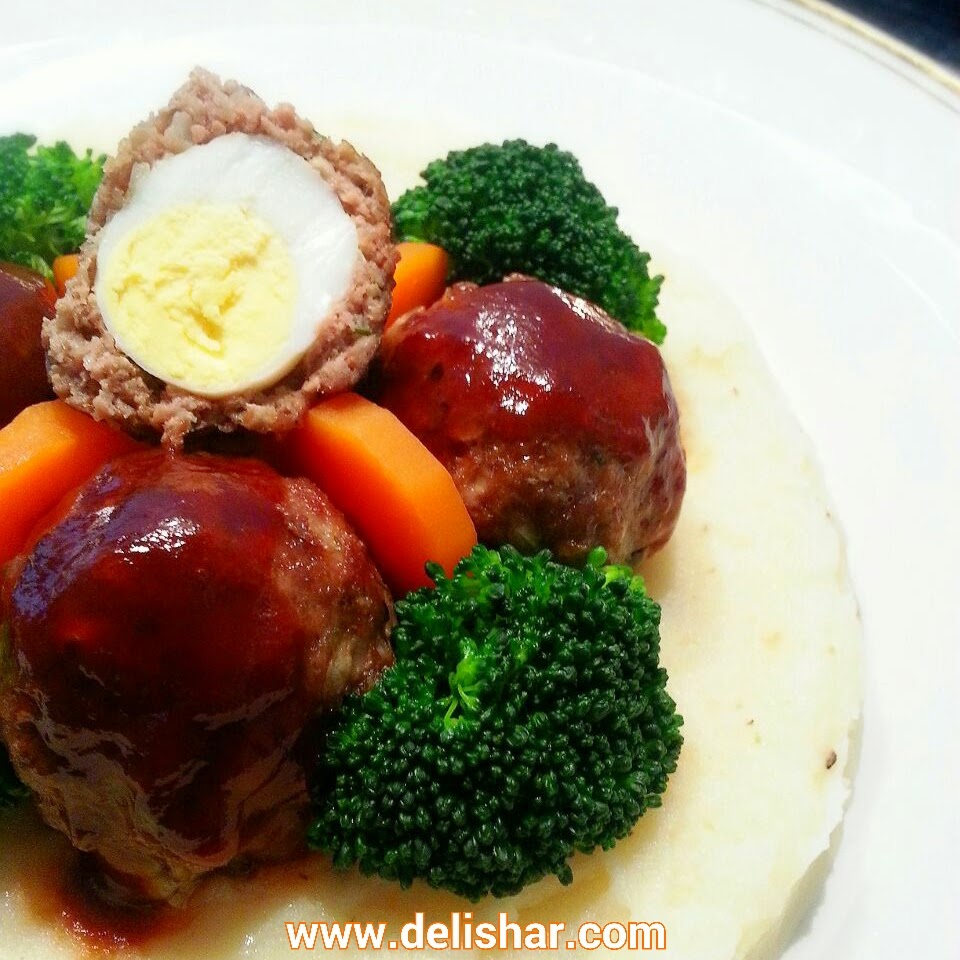 Serve with blanched broccoli, carrot, and garlic mashed potatoes.
Drizzle sauce over meatball before serving.
To take part in the Mayer Airfryer + Baking Tin Giveaway, simple complete the rafflecopter below.
This giveaway ends on Tuesday, August 11, 2015 at 12:00 a.m. Singapore time (GMT+8). The winner will be selected by random.org and will contacted by email. The winner will need to respond within 48 hours. If there is no response from the winner after 48 hours, another winner will be selected. Meet up required for prize collection, therefore it is open to Singapore entrants only.