When I posted this Sockeye Salmon picture on my instagram and FB, some friends asked me what is a Sockeye?! Yes, it is a type of salmon! And honestly, I have no idea that there are so many different types of salmon! Kevin fromThe Alaska Guys (TAG),very patiently explained to me how the fishing industry works and the difference of each type and shared with me the range they carry. Their seafood is the closest you can get from the sea to your table! Commercially of course. 😉 Go to theironline storeto find out more, besides a range of SalmonThe Alaska Guys (TAG);also stock a range of wild-caught premium seafood such as Black Cod, Halibut, Snow Crab, and the famous Alaskan Crab (now we don't have to go to Vegas to have them!) at very reasonable prices. Great for impressing your guests during this festive season
I never really knew the difference between wild caught and farmed salmon. Never knew what I have been missing until the good people from The Alaska Guys (TAG) contacted me. I've heard others telling me that there is a difference in taste and texture between the wild and farmed fish, but in my head I was thinking… It can't be that different right? Fish is fish, until I tasted my first wild caught Alaskan salmon. I'm blown away (the husband too). The first thing I said to my husband was, "Wow! So this is what REAL fish taste like!". I prepared the wild salmon side by side with the supermarket's farmed Salmon for comparison and needless to say the wild salmon wins hands down. We couldn't even finish a 1/4 of the farmed salmon that I got from our local supermarket. It tasted fishy, and unappealing.
I did a little research online to compare the health benefits of Wild vs Farmed and I found this
Food Fight
summed it up best. Out of the many nutritional facts compared between Wild and Farmed, Wild wins 8 to 3. That's pretty impressive, to think that Salmon and Cod are probably the first few type of fish we introduce to our young ones, because we know the goodness of it (esp for brain development). And now I learned that I could have given them better!
I quote from this site:
Wild Vs. Farmed Salmon Comparison
| | Wild | Farm-Raised |
| --- | --- | --- |
| Nutrition | Higher Ratio of Omega-3 to Omega-6 Fatty Acides | Lower levels of protein and much fattier |
| PCBs (class of organic compounds that are highly toxic) | Low levels | 8 times as many PCBs |
| Coloration | Naturally orange or red because of diet | Given pigments to turn color of salmon from natural white |
| Disease | Contain low amounts of lice, disease and contaminations | High levels of disease, lice pesticides and given large amounts of antibiotics |
| Environmental | Populations killed off by escaped farmed fish | Excess waste and disease harm natural eco-system |
| Price | Slightly higher price | Cheaper because already in nets |
The generous people at
The Alaska Guys (TAG)
giving away a sampler package that consist of a 1.5kg worth of combo mix wild caught salmon. Best way for you to try out the different type of salmon available! Scroll below to take part in the giveaway.
The Alaska Guys (TAG)
is also extending a
5% cart discount
on their quality seafood only for Delishar's reader! Quote "
Delishar5
" in your message to seller when you check out on their
online store.
*Giveaway & cart discount applicable to Singapore residence only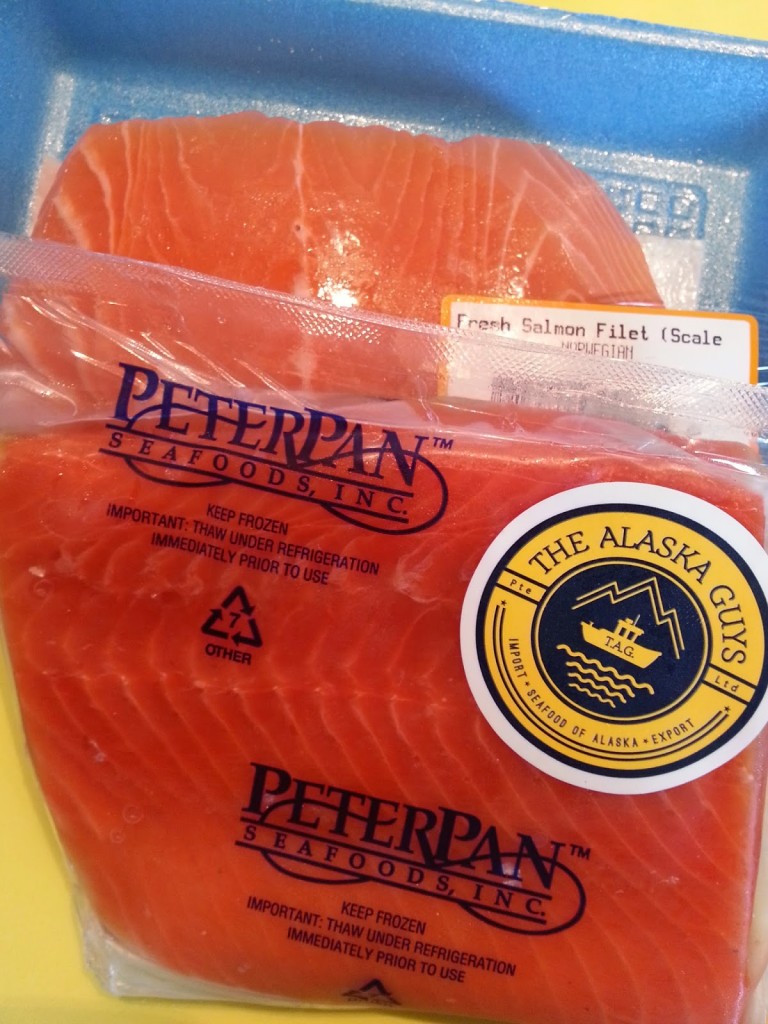 Side by side comparison of their wild caught Alaskan Sockeye and Norwegian salmon from supermarket. The colour of the Sockeye just pops! It's so much redder! And when I am handling the meat, the thawed sockeye felt firmer and fresher compared to the fresh salmon (the supermarket people can't even tell me what kind it was when I asked). I was pleasantly surprised that I didn't even have to remove any pin bones from the Sockeye! I will be posting a few salmon recipe in the next couple of days, for now here is the Wild Sockeye Salmon with Soy Honey Ginger Glaze. The giveaway widget is after the recipe.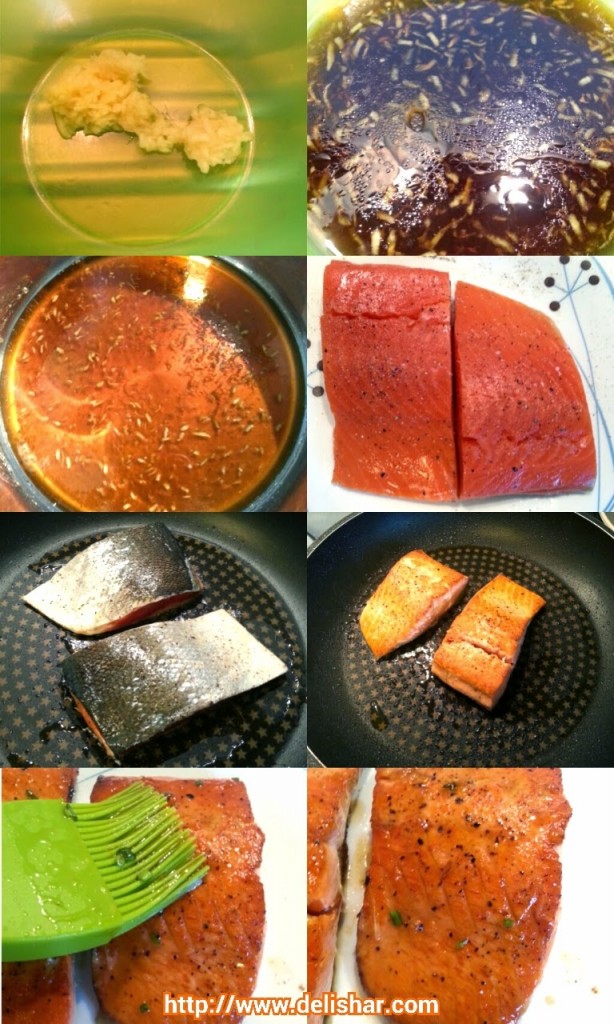 Ingredients (Serves 2)
350-400g wild salmon fillets
2 tbsp light soy sauce
1 tsp sesame oil
1 tbsp rice vinegar
3 tbsp honey
1 tsp grated ginger
1 clove garlic, grated/crushed
1 tbsp chopped spring onion
1-2 tbsp oil
Chopped spring onion, for garnishing
For garnishing fried ginger slices (optional)
In a small bowl, mix in soy sauce, sesame oil, rice vinegar, honey, garlic, and ginger.
Pour mixture into a heavy bottom sauce pan and bring to boil on med high heat.
Lower heat to med and allow mixture to reduce while stirring occasionally (about 1-2 mins).
Watch to make sure it doesn't burn.
Remove from heat, stir in spring onions, and set aside.
Heat pan with oil on med high heat.
When oil is shimmering, place salmon in pan skin side up.
Allow to cook for 2-3 mins, untouched.
This gives the salmon a nice sear, and golden crust while keeping the center moist.
Carefully flip salmon and allow to cook for another 2-3 mins.
Remove from pan and pour or brush on glaze.
I brushed it on and serve the extra glaze on the side.
Garnish with fried ginger & chopped spring onions.
Serve with steamed white rice.
Don't forget to take part in the giveaway below and use the 5% discount (quote "Delishar5")!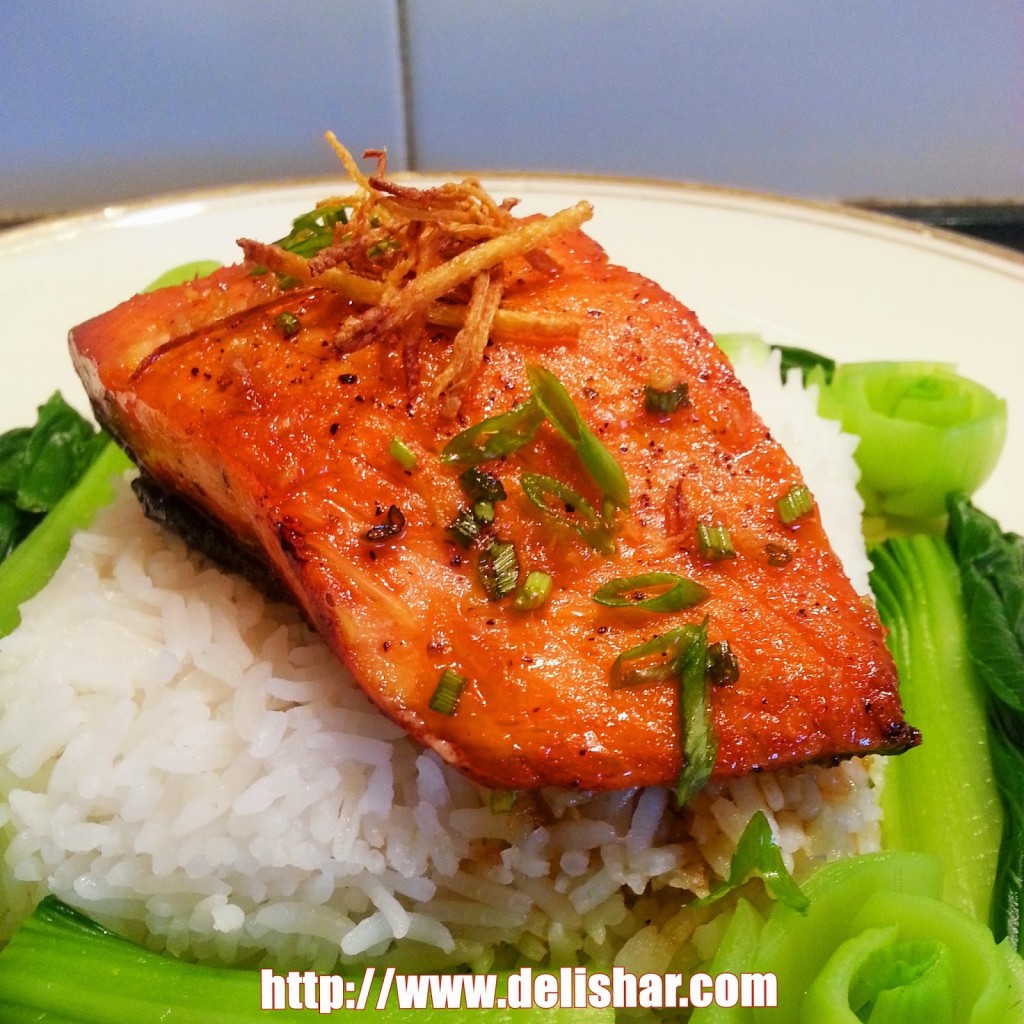 To take part in the giveaway, simply complete the Rafflecopter below!
This giveaway ends on Saturday, December 13, 2014 at 12:00 a.m. Singapore time (GMT+8). The winner will be selected by random.org and will contacted by email. If there is no response after 48 hours, another winner will be selected. Giveaway prize will be delivered to you by
The Alaska Guys (TAG)
, therefore it is open to Singapore entrants only.