My girls were a little crazy over this dish. The loved the sauce and the glazed chicken pieces over their white rice. Before you get all up on my neck about giving my 4 & 5 year old bourbon, let me explain. This bourbon chicken has no bourbon or alcohol at all. Now, you wouldn't really have thought that I would slowly poisoning my girls liver would you? 😛
I've never heard of bourbon chicken until I travelled to the USA. This dish right here is one of the popular take out or dine-in dishes at Chinese restaurants all over the states. I was a little apprehensive the first time I saw it on the menu. You see, I don't drink, alcohol gives me hives and plants a tiny person with a jack hammer in my head. So when I saw it on the menu, I'm like "Thanks, but no thanks." But after seeing it time and again, every where I go, it's almost in all the food courts / restaurants I visited.
So, my curiosity got the better of me, a risk (of hives and pounding headache) I was willing to take. Being the foodie, I got to find out for myself why is this dish so popular. So I ordered my first plate, and it was pretty much love at first bite. Sweet, savory, tangy, and with a very slight kick. I can see why it has got the making of a popular dish. So I went back and did a little research on it.
Bourbon chicken was named after Bourbon Street in New Orleans, Louisiana. It was said that a Chinese chef who developed this recipe in a Chinese restaurant gave that dish it's name. Makes sense now? Not sure how credible the origin of the mysterious bourbon chicken is though. Although the recipe doesn't call for bourbon, it doesn't restrict you from adding it in either. 😉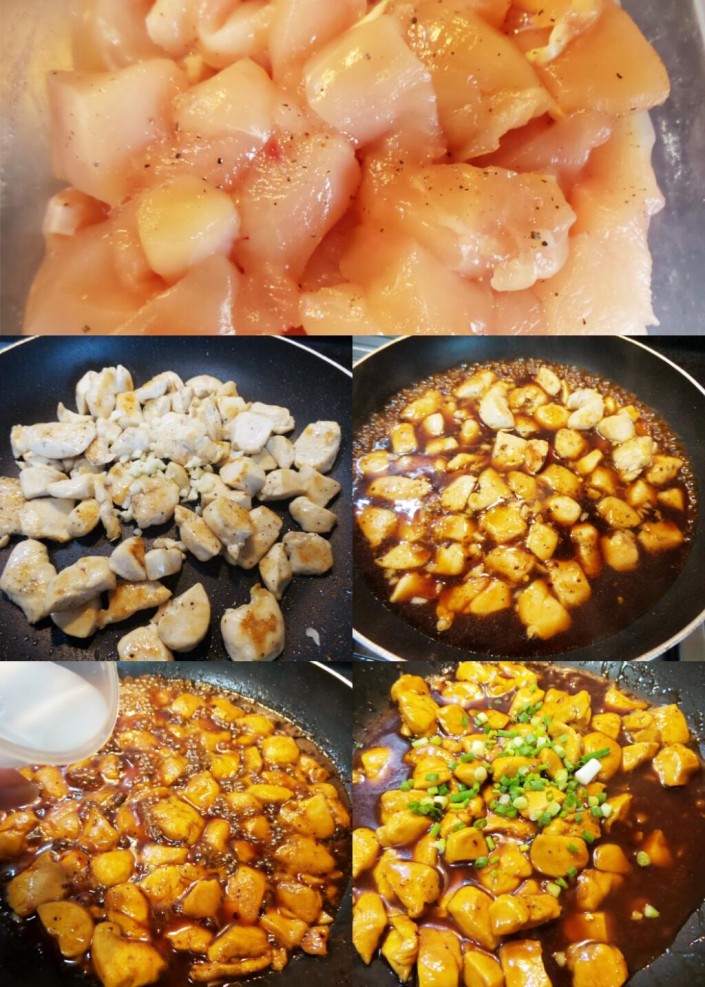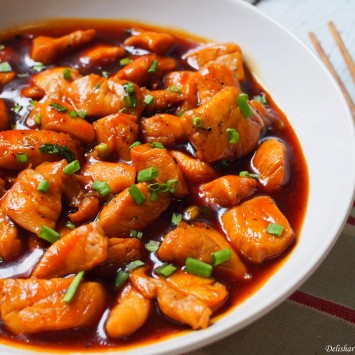 Bourbon Chicken
Ingredients
1

kg

boneless skinless chicken breasts / thighs

cut into bite-size cubes

1

tbsp

oil

2

cloves

garlic

minced

1

tsp

grated ginger

1/2

tsp

red pepper flakes

1/4

cup

apple juice

1/3

cup

brown sugar

1

tsp

cider vinegar or rice vinegar

2

tbsp

ketchup

1/2

cup

water

1/3

cup

light soy sauce

Corn starch slurry

Chopped spring onions to garnish
Instructions
Heat oil on med high heat in a large skillet.

Add chicken pieces and lightly brown on both sides.

Remove chicken and set aside.

Add remaining ingredients except corn starch slurry into skillet over medium heat.

Mix well, then return chicken to skillet.

Bring to a boil and lower heat to a simmer.

Allow to simmer for 20 minutes.

Thicken sauce with corn starch slurry.

Garnish with chopped spring onions.

Serve over steamed white rice.