What's your guilty pleasure? For me, it is Shin Ramyun Instant Noodles, maggi goreng style. Actually, I like the soup version as well. This is probably the only instant noodle I eat, as I like that the spiciness of this noodle isn't as mild as all the other instant noodle brand. And more importantly, I like the texture of the ramen noodle most.
Inspired by Maggi Goreng (also another of my guilty pleasure), I came up with this super easy recipe. This is a great way to jazz up common instant noodles, and it's really delicious too! The recipe is completely versatile because you can add whatever you like to the mix. Beef slices, tofu cubes, scrambled eggs, or mushrooms just to name a few. Here I used fresh chicken breast and kimchi, then topped it with a gorgeous over easy fried egg.
Writing this post is not helping with my diet at all. I'm getting really hungry, and craving for a bowl of stir-fried korean ramyun!! I shall stop writing about the dish, and leave you with the recipe before I cave. Enjoy!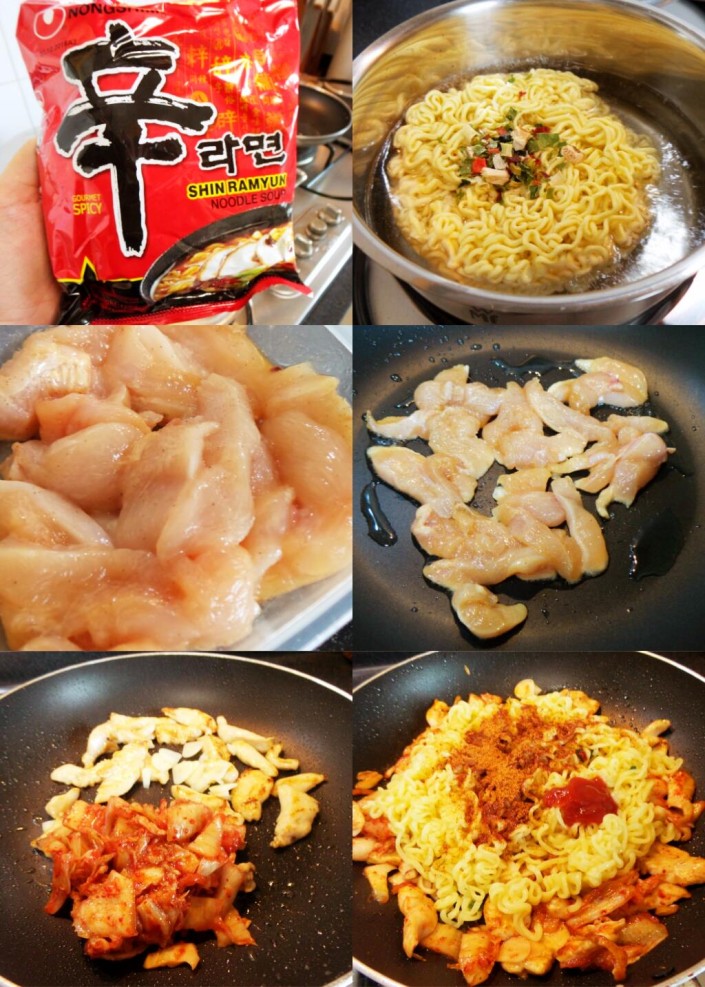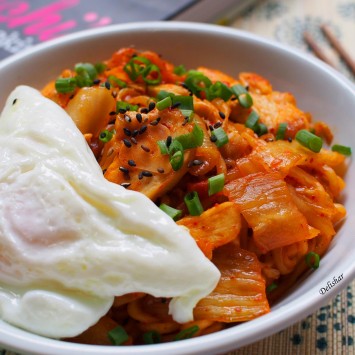 Stir-fried Spicy Korean Noodles
Ingredients
1

packet of instand korean ramen noodles

1

packet of included seasoning

1

packet of included dehydrate toppings

1-2

tbsp

ketchup

1/3

cup

kimchi and it's juices

roughly chopped

1

chicken fillet

sliced into thin pieces

1

clove

garlic

2

tsp

cooking oil

1/4

cup

noodle cooking water

salt and pepper to taste
Toppings
1

fried egg

1/4

tsp

sesame seeds

1

tsp

chopped spring onions
Instructions
Season chicken with salt and pepper.

Bring a saucepan of water to boil and cook noodles together with dehydrated toppings just shy of al dente. (slightly undercooked)

In your frying pan, heat oil on medium high heat.

Add chicken and saute until no longer pink.

Then add garlic, and kimchi. Stir-fry for 30 seconds.

Drain noodles, reserving 1/4 cup of the cooking liquid.

Add noodles to frying pan, season with seasoning pack and ketchup.

Pour in some reserved cooking liquid if too dry.

Toss and mix well, and remove from heat.

Top with egg, sesame seeds, and spring onions.

Serve immediately.