This dish bring back many fond memories of my growing up years. I remember going to school, but always looking forward to recess/break time just so I can run to the Malay food stall to get my sambal chicken wing fix. I will eat that, without fail…as long as I'm in school, to the point where the stall vendor sees me, and will automatically pack my wings for me, with extra sambal chilli. <3 Then I was young and I can afford the extra grease, now things are different, got to watch dem love handles! But I'm unwilling to give up my childhood dish, and I'm too cheapskate to buy myself an air-fryer. So came this recipe and cooking method. 🙂
You do not need an expensive air fryer to make crispy chicken wings. You can now make them in your oven. With NO oil used at all! Yup! No oil, no guilt, no air-fryer, no problem. LOL! I made 8 mid wings that day, and I wished I made more. It was that yummy, because of the crispy skin, and of course that psychological influence that it is almost guilt-free… The secret is to parboil the chicken before baking. This process removes excess fat from the chicken, allows it to remain tender while baking, and allows it to crisp up using it's remaining fat. The process is very simple, and the end product is versatile. You can toss it in any dressing you like (bbq, buffalo, or sweet chilli), make a large batch and toss it in different sauces for a party, or it is yummy on its own too! If you do not live in Singapore, you can easily get premade sambal chilli sauce in any Asian grocery store. 😉
Have you taken part in the current Mayer Airfryer GIVEAWAY? Details below.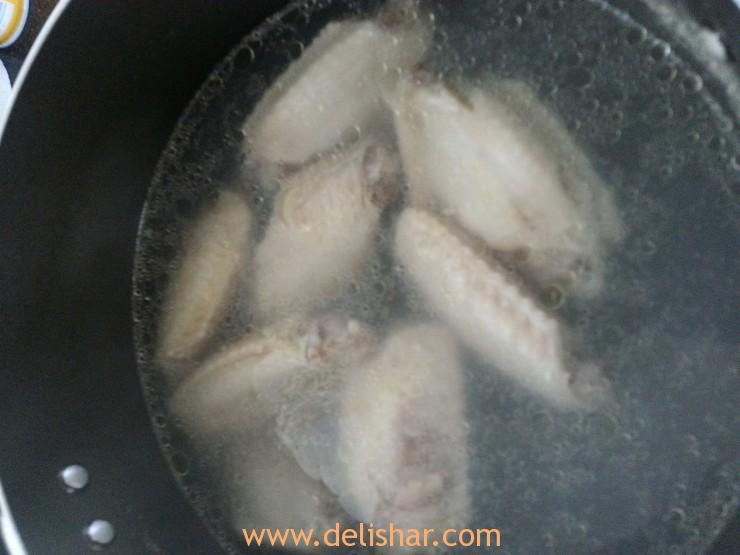 First, you parboil your wings in a pot of salted water. This helps with crisping up the wings.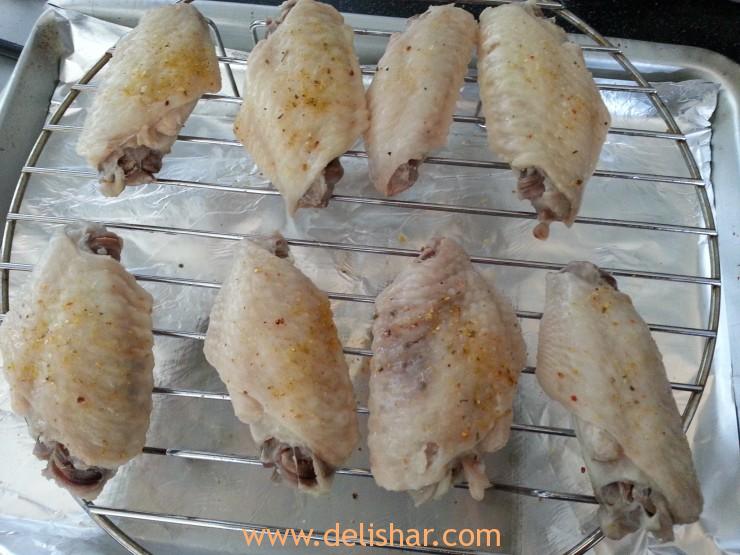 Drip dry and pat dry wings then season.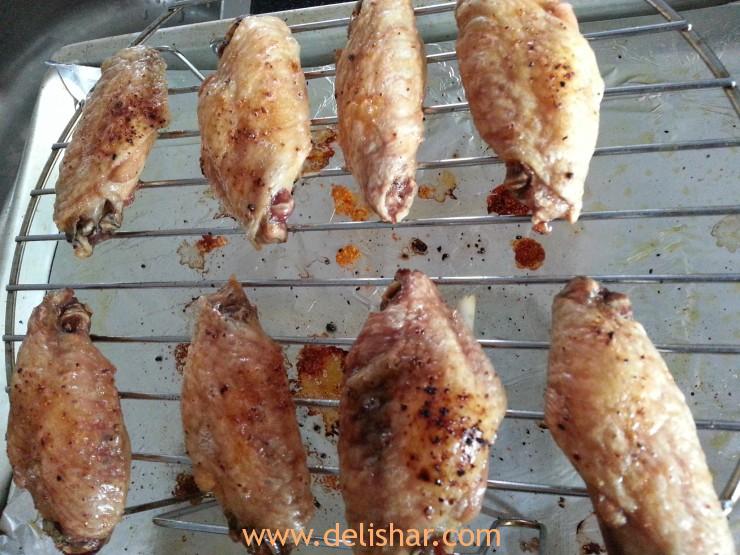 Bake at at 230 for 25 minutes.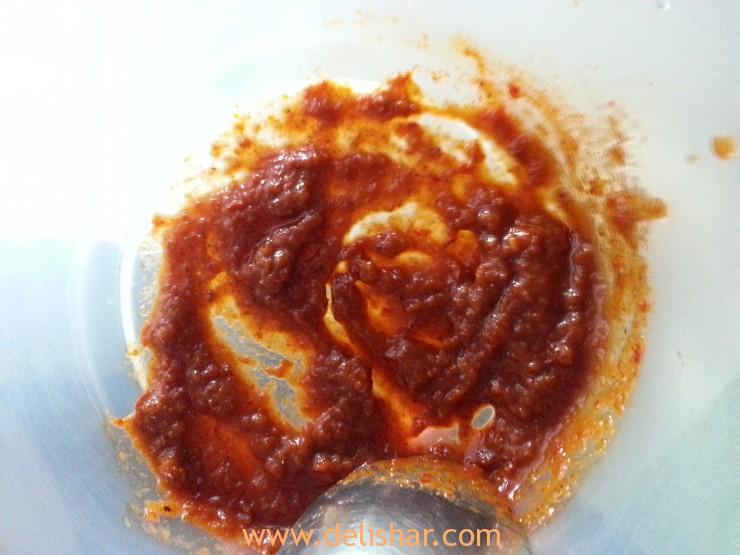 Meanwhile mix your sambal for coating.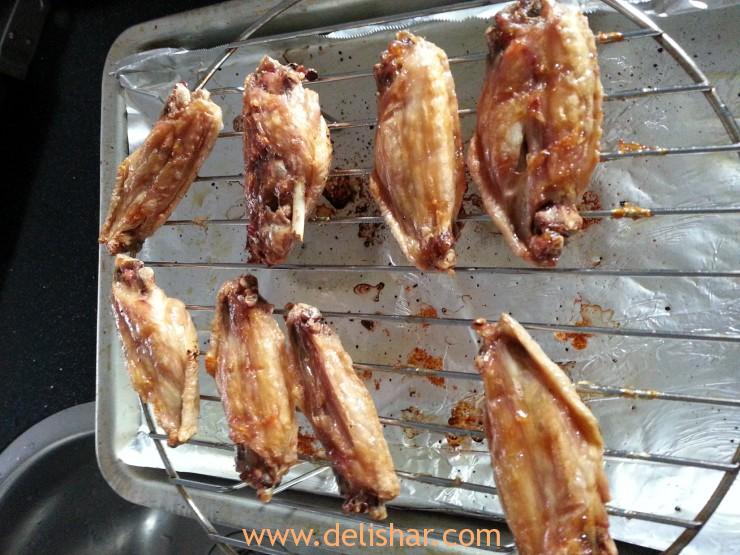 Flip the wings and bake for another 5-10 minutes.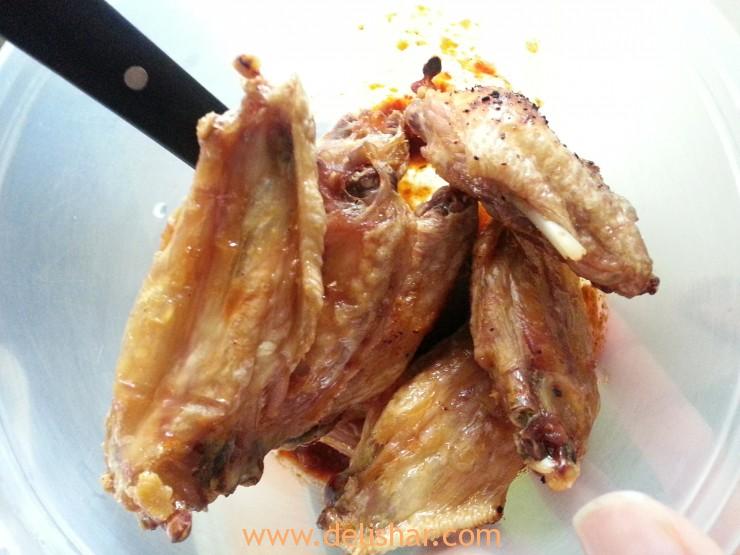 Toss crispy wings to coat.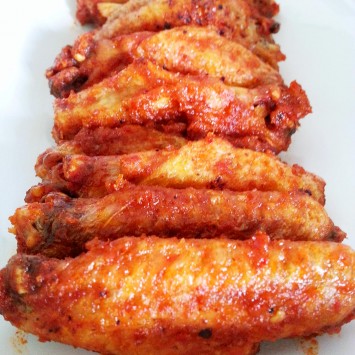 Baked Sambal Chicken Wing
Ingredients
8

pcs mid wings

1-2

tbsp

sweet sambal chilli sauce

I used Lee Wee Brothers

Seasoning spices to taste

I used a garlic and onion blend

Salt and pepper

Pot of salted water

pasta/sea water salty

Splash of hot water
Instructions
Preheat oven to 230C

Bring a pot of water to boil, add salt.

Do a taste test, it should be salty, very much like sea water.

Parboil chicken for 8 mins.

Remove and place on wire rack, skin side up.

Let the water drip off, then pat dry chicken with kitchen towel.

Season with whatever dry spices you want.

You may want to cut down on the salt by a whole lot as the wings were already cooked in salted water.

Place in oven and bake for 25-30 mins on 230C.

Flip and bake for another 5-10 mins.

Meanwhile, in a mixing bowl, place 1-2 tbsp of sambal chilli.

My sambal was thick, so i added 1 tsp of hot water to get this consistency for a more even coating.

Toss crispy baked chicken in the sauce to get it evenly coated

Serve as appetizer or with white rice.
Notes
You can also make this in your airfryer.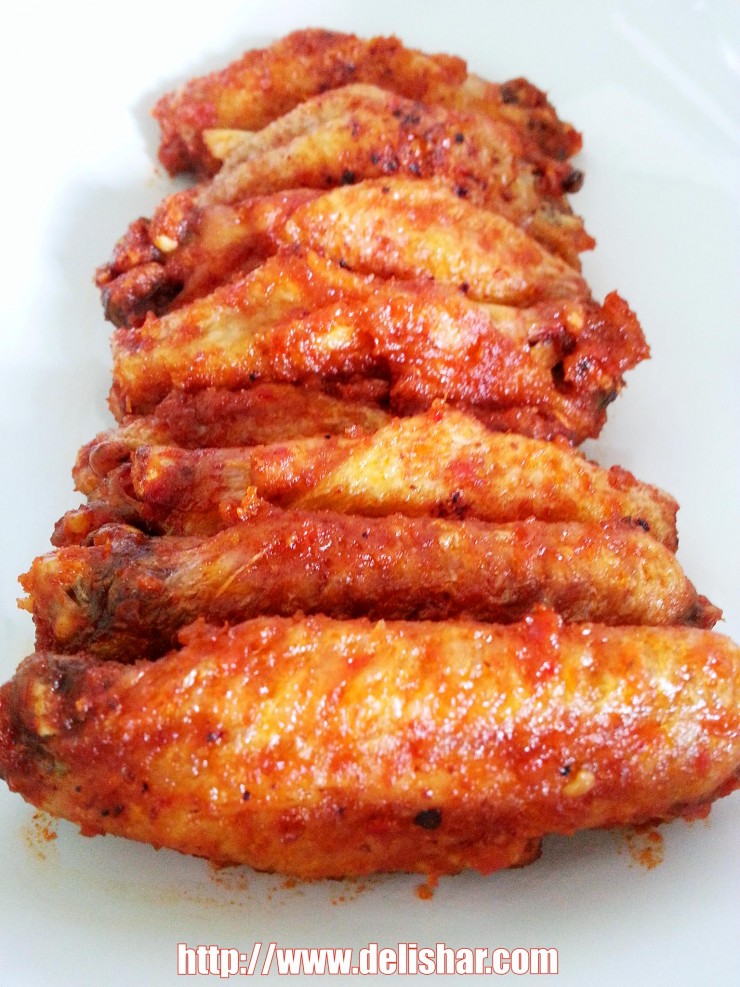 To take part in the Mayer Airfryer + Baking Tin Giveaway, simple complete the rafflecopter below.
a Rafflecopter giveaway

This giveaway ends on Tuesday, August 11, 2015 at 12:00 a.m. Singapore time (GMT+8). The winner will be selected by random.org and will contacted by email. The winner will need to respond within 48 hours. If there is no response from the winner after 48 hours, another winner will be selected. Meet up required for prize collection, therefore it is open to Singapore entrants only.