I shared this recipe on my blog when I first started this cooking blog. Come to think of it, I'm into my 3rd year now, and it has been a fun and fulfilling journey. I got to meet a lot of like-minded people and have form pretty tight friendships. In this 2+ years, I've also picked up some culinary, food styling, and photography skills. I used to shoot only with my cellphone camera. But now, I've upgraded to using an actual camera. Not yet one of those fancy schmancy thousand over dollars of DSLR. lol! But at least, I'm using a decent camera now.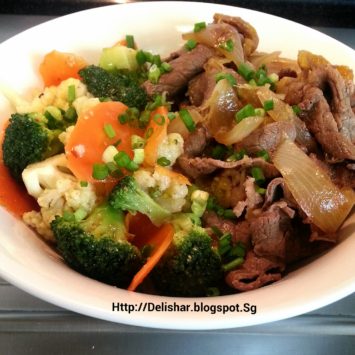 When I overhauled my blog, My web designer told me that a lot of my pictures will need to be re-done as well. I've yet to get down to re-taking the pictures, simply because it means having to recook the food for pictures on top of creating new recipes and sharing it on my blog. I mean, that's a lot of time. But I have to do it at some point in time. So here is my updated picture of Gyudon. I did not take any updated step-by-step pictures this time round as I followed the recipe to the T. So I guess, no need for updating. 🙂
This is a simple 30 minutes Japanese meal but it's packed with awesome flavours! I love how easy it is to make this meal, perfect for a busy week night dinner! Let's get cooking!
In a pot of boiling water par-boil the beef (DO NOT cook it through!).
This helps remove odor and excess fats.
Drain and set aside.
You can see that my beef slices still retain some of its pink.
Get your sauce ready.
Add all ingredients marked * together.
Heat pan on med high heat with sesame oil.
Stir fry onions until slightly soft.
Pour in sauce and water.
Bring to boil.
Add beef and coat well.
Cover and let it simmer on low heat for 5 mins.
Then uncover and let sauce reduce a little.
In another pot, blanch veg in salted water.
Serve over white rice and garnish with chopped spring onions.