The husband loves his sandwiches. Give him a menu with club sandwich or bread with chicken and avocado and it's a done deal for him. Me? Not so much. That is probably because I'm not much of a bread person. However, I do enjoy both sweet and savoury waffles. So as a compromise, I made him a club sandwich, and me some waffles. Paired the waffles with a triple Mmm (Maple, Mayo & Mustard) sauce, sunny side up with luscious lava yolk, crispy clean butterhead lettuce, and succulent tomato. To seal the deal, I grilled some paprika spiced chicken breast, and caramelised bacon with maple syrup for that perfect sweet and savoury finish that leaves you wanting more.
It was a tall sandwich, and at some point, I ate it open faced. I'd suggest serving it open faced, make a thinner middle waffle, or omit the middle waffle all together. This waffle recipe produce a crusty and denser waffle. If you prefer something lighter and more savoury, go to my Grilled Lemongrass Chicken Waffle Burger for another waffle recipe.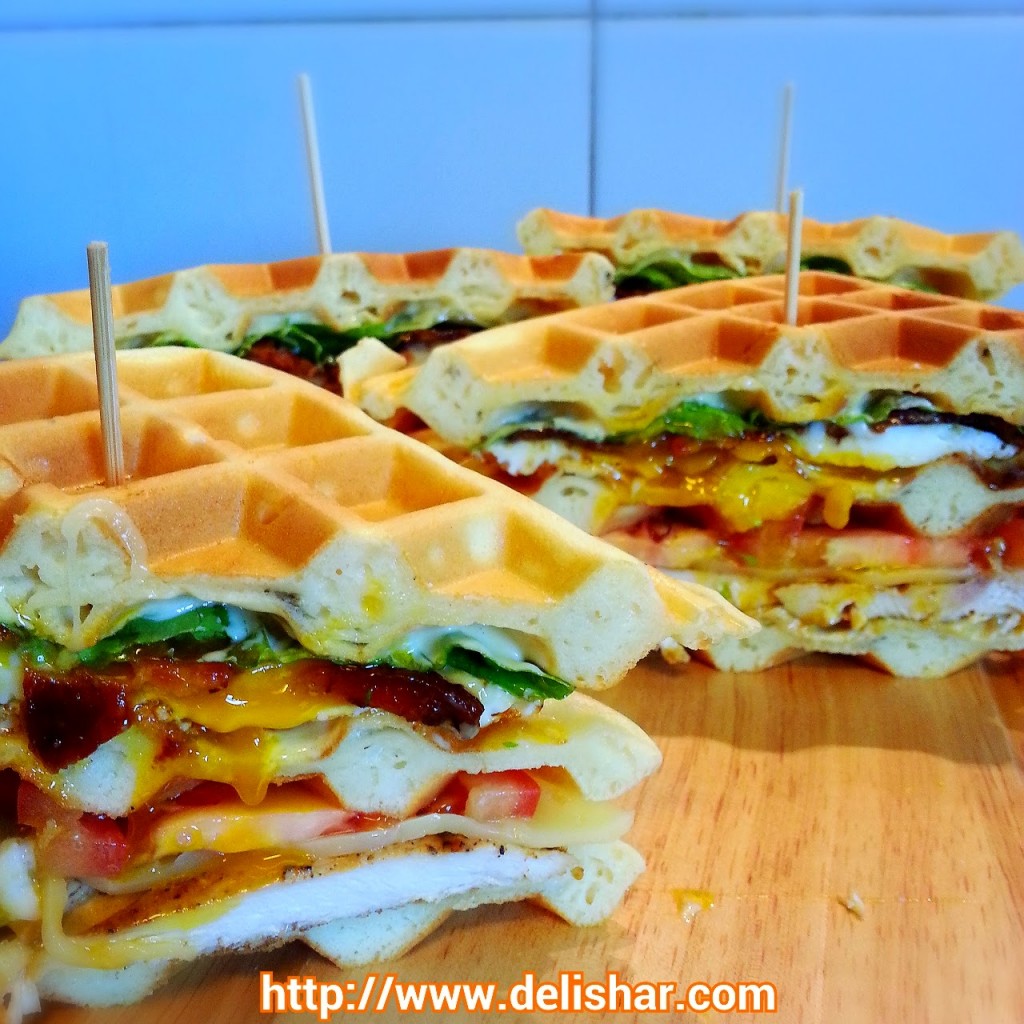 The recipe allowed me to play with my new toy. My Kenwood 3 in 1 multi -snacker sandwich maker (SM650). It has 3 sets of changeable plates to make waffles, sandwich, and as a panini press. It double up as an electric grill as well. I liked that it has a light indicator that turns green to tell you that your waffle is ready. The heating element on the other hand does not distribute the heat evenly throughout the waffle plates. Some parts of the waffle browned faster than others as you can see from the first picture above. But overall I'm still pretty pleased with the multi-functional machine. For about $70, I think it's pretty value for money. That's just my very short humble review of the sandwich maker. I will update more when I get to use the other 'functions'. Here's the recipe for the Waffle Club Sandwich.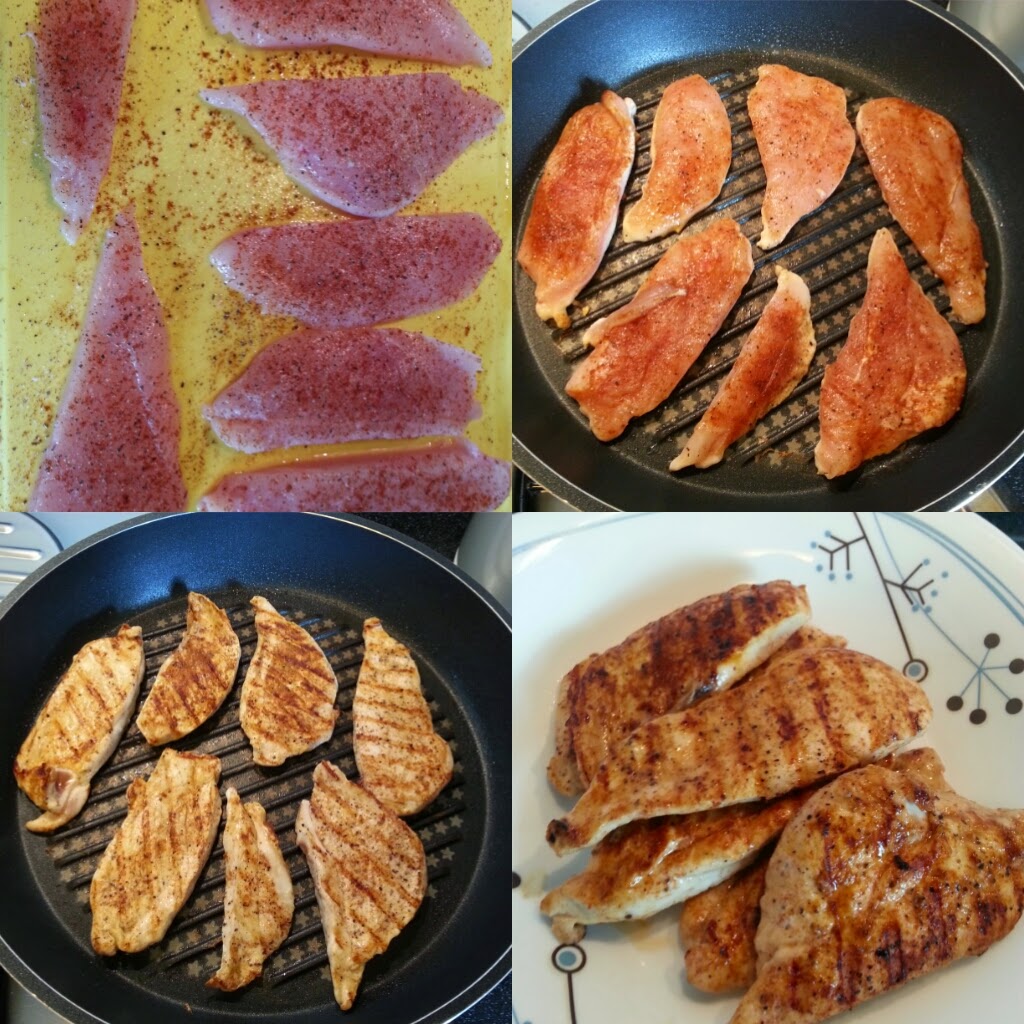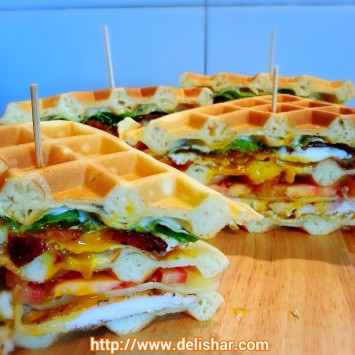 Waffle Club Sandwich
Ingredients
Sandwich Filling
2

chicken breast

sliced across to make them thinner (or you can just use shaved ham/turkey)

2

tsp

paprika powder

salt and pepper to taste

Oil for pan frying or grilling

8

slices

of bacon

2

tbsp

maple syrup

4

eggs

cooked sunny side up

4

slices

of pepper jack cheese

butterhead lettuce

1/2 to

mato

sliced

2

tbsp

mayo + 1 tbsp maple syrup + 1 tbsp dijon mustard

Buttermilk waffles

recipe attached
Instructions
Sandwich filling
Preheat oven to 200C.

Season chicken with paprika, salt, and pepper.

Set aside until ready to grill.

Lay bacon on lined baking pan, do not overlap.

Bake for 10 mins, generously brush on maple syrup on bacon.

Continue to bake for another 5-8 minutes until crisp.

Grill chicken on med high heat until no longer pink. About 1-2 mins each side.

Set aside, tent with aluminium foil to rest for at least 5 minutes.

Make your sauce by mixing together mayo, maple syrup, and mustard.

Prepare your waffle with the recipe below.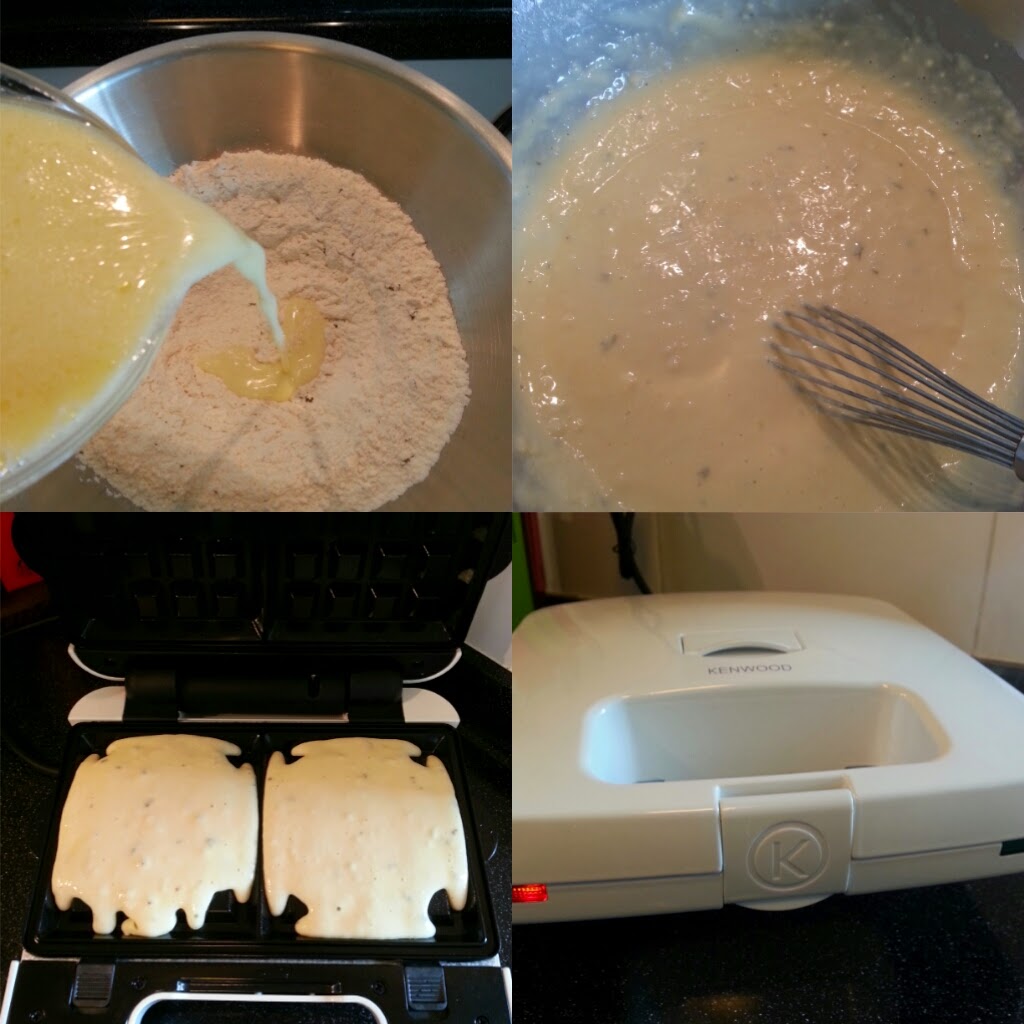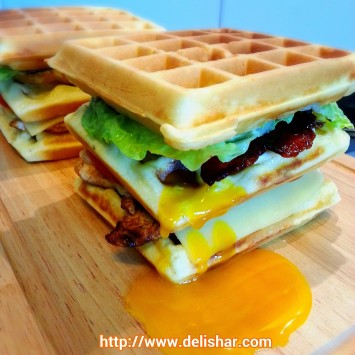 Buttermilk Waffles
Makes 10 waffles
Ingredients
2

cups

plain flour

3-1/2

tsp

baking powder

2

tsp

sugar

1

tsp

dried parsley

1/4

tsp

salt

2

eggs

4

tbsp

melted butter

1-1/2

cup

buttermilk
Instructions
Whisk together flour, parsley, sugar, salt, and baking powder.

Mix together buttermilk, butter, and eggs.

Pour wet ingredients into dry ingredients.

Mix until just combined. Batter may still be lumpy.

Do not over-mix or your waffle will be very tough.

Pour about 1/4 cup into waffle pan/maker.

And cook waffle until golden brown.

Build your club sandwich by spreading the sauce on each layer of waffle, then layering with prepared fillings.

Serve immediately.
Notes
I only made 10 because I skipped the waffle in between for the other 2 servings.
Adapted from foodnetwork.com