After a series of savoury dishes, I think it's time for something sweet! This sticky date pudding was so dangerously good! I had to stop myself from having 2 servings. This makes an awesome Christmas dessert to serve individually or as a cake itself. But I'll let you in on a little secret. There's no need to wait until Chirstmas to enjoy this dessert! 😛
The pudding was made using a blender, so it made clean up even easier! Pardon the imperfect sugar decoration. It was my first time playing with sugar, and boy do they melt fast in the heat and humidity! Making praline would have been a better choice.
Nonetheless, I was more than happy that the dessert turned out way better than I expected. Given that I do not like dates, I loved this to bits! The husband loved it too, all the could say was, "wow!". 🙂 The butterscotch recipe makes enough for 8, I'm glad I made more to keep so I can drizzle on ice-cream. If you have never tried a sticky date pudding before, please take some time to try out this recipe. You will not be disappointed.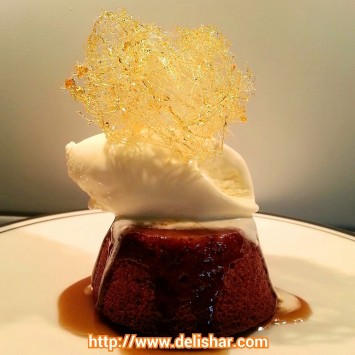 Sticky Date Pudding with Butterscotch Sauce
Ingredients
Pudding (Makes 4)
90

g

pitted dates

chopped

155

ml

water

1/4

tsp

baking soda

1/2

cup

self raising flour

sifted

30

g

butter

softened

80

g

firmly packed brown sugar

1

egg

1/2

tsp

vanilla extract

pinch

of salt
Butterscotch Sauce (Serves 8)
200

g

brown sugar

200

ml

heavy cream

50

g

butter

1

tsp

vanilla extract
Instructions
Pudding
Preheat oven to 180C.

Grease muffin pan.

Add dates and water in a saucepan and bring to boil over high heat.

When boiled, remove from heat, and add baking soda.

Give it a mix, and set aside for 10 mins.

In a blender, add the dates mixture, pulse 3 times.

Add sugar, butter, salt, vanilla extract, and egg.

Pulse another 3 times.

Add in self raising flour.

Pulse until just combined, about 3-4 times.

Pour batter into prepared tin.

Bake for 20 mins or until skewer comes out clean.

Allow to cool in pan for 5 mins before turning it out.
Butterscotch sauce
Add sugar, butter, cream, and vanilla in a heavy bottom sauce pan on low heat.

Melt all the ingredients and bring to boil.

Lower heat and allow sauce to reduce and thicken, about 5 mins.
Putting it together
Pour sauce over warm pudding and serve immediately.

Serve it with a scoop of vanilla ice-cream for that extra oomph!
Notes
Tip: I shaved off the little bump on the top for a more even appearance.
Adapted from tvnz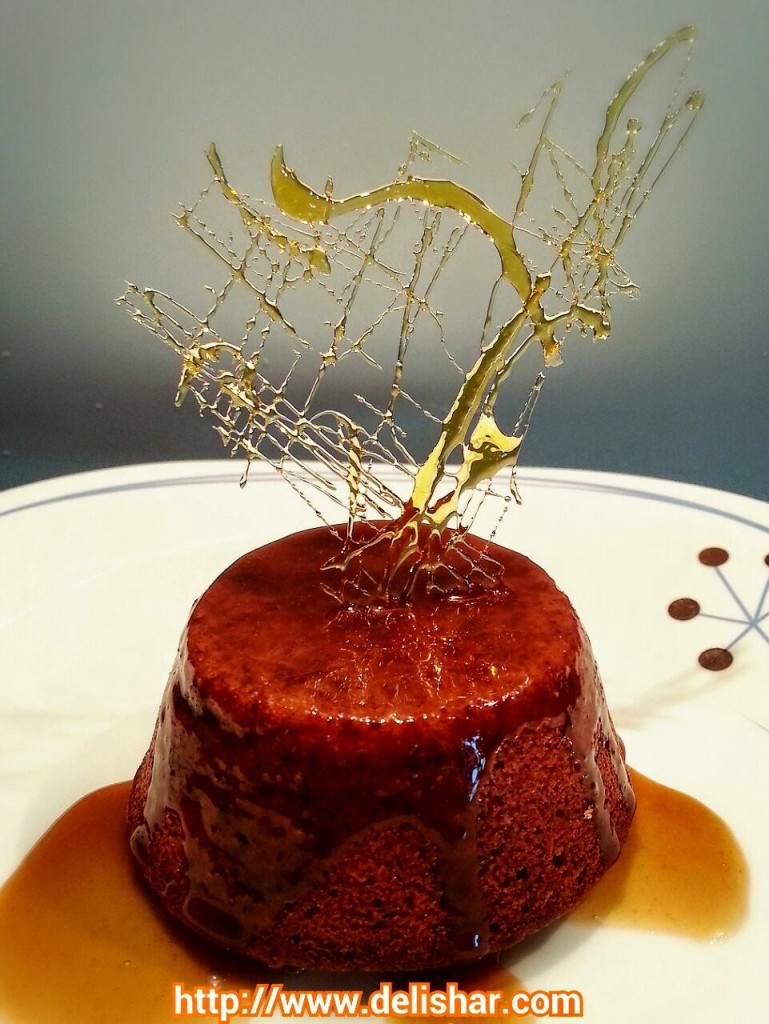 If you want to learn how to make sugar decoration, refer to this Link or this Link.